Statesboro High School's chapter of the National Honor Society will host its 2nd Annual Tulip Trot on Saturday, April 30 to increase awareness about Parkinson's disease and raise money for the Parkinson's Foundation to aid in research for a cure. The event is a certified part of the Parkinson's Foundation's national Moving Day Community Walk. The school hopes to match or surpass the $10,000 it raised during last year's event.
Participate virtually or in-person Tulip Trot
Tulip Trot Participants can either sign up for the virtual walk option or participate in the in-person walk at Womack Field from 9 a.m. to 12 noon. Virtual participants are able to set their own day, time, and distance. Register online here or scan the QR code on the attached flyer. The cost is $20 per person and registered walkers will receive a gift bag with a t-shirt, coupons, and more.
In-person event features a Community Expo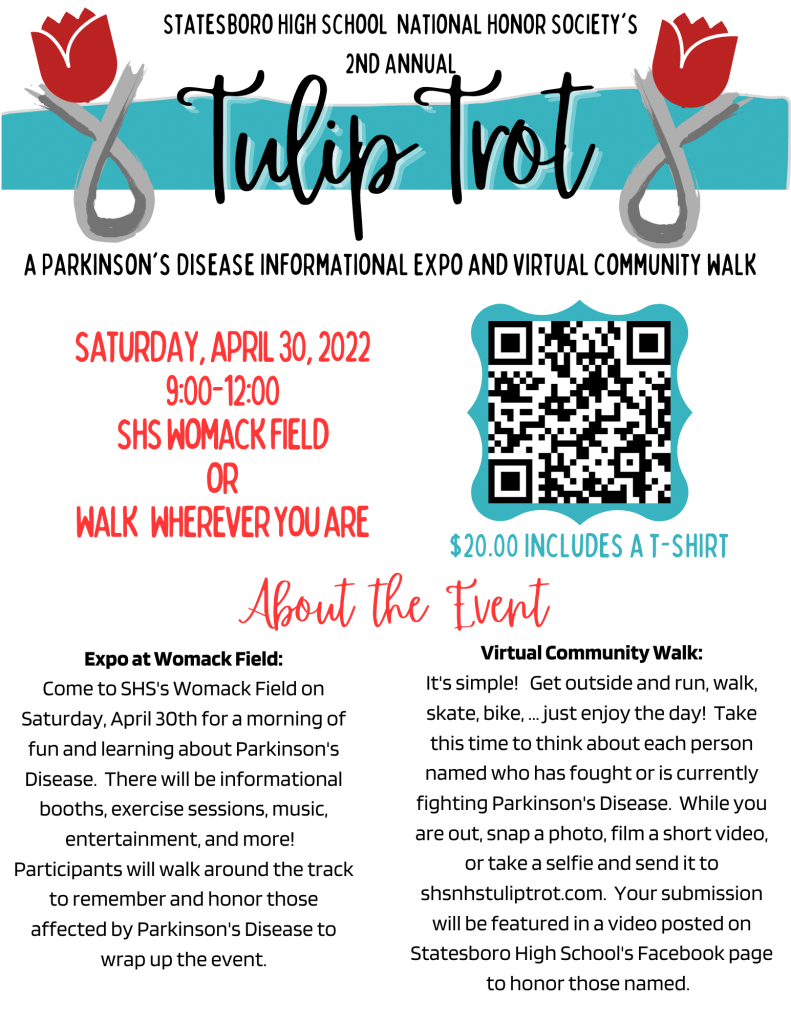 The in-person event will also feature a Community Informational Expo with health and wellness vendors, activities, exercise sessions, music and more. You can also choose to walk in honor or memory of those affected by Parkinson's Disease, a disease that has affected school district employees past and present. Interested vendors or sponsors can email shsnhstuliptrot@gmail.com.

Parkinson's disease is a progressive nervous system disorder that affects movement. Approximately 60,000 Americans are diagnosed with the disease each year. More than 10 million people worldwide are living with Parkinson's disease, 20,000 of whom live in Georgia.