Statesboro High School's fine arts department, led by drama teacher and department chair Eddie Frazier, will proudly present, "Aladdin", in three evening performances on March 24-26 at 7:00 PM, and a Sunday matinee on March 27 at 3:00 PM. All shows will take place in the SHS auditorium.
Come enjoy this student production as the cast takes us to the city of Agrabah where Aladdin and his three friends, Babkak, Omar, and Kassim, are down on their luck. But Aladdin discovers a magic lamp and a Genie who has the power to grant three wishes. Wanting to earn the respect of the princess, Jasmine, Aladdin embarks on an adventure that will test his will and his moral character. However, Jafar, the Sultan's royal vizier, has other plans for the lamp.
Tickets are available online only through the GoFan website. General admission tickets are $10 for adults and $5 for students and children ages 12 and under.
You can purchase your tickets here: https://gofan.co/app/school/GA11899
---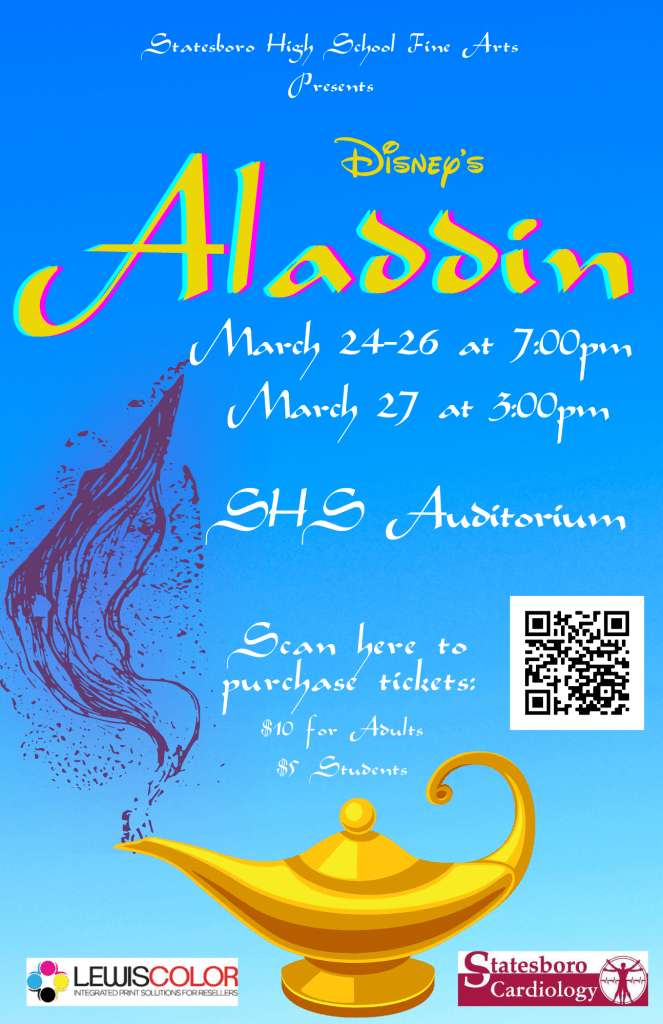 ---
- Cast List "A" -
(in order of appearance)
GENIE—Abby English
ALADDIN—Ryan Wolfe
BABKAK—Ambrea Carnes
OMAR—Rylee Martindale-Rushing
KASIM—Lydia Lippincott
JASMINE—Ragen Simmons
SULTAN—Kaylen Merritt
JAFAR—Riley Callaway
IAGO—Hannah Weaver
SHOP OWNER—Eva Beth James
RAZOUL—Izy Hane
GUARDS—Gage Landing, Hunter Williams
HAREM GIRLS / BEGGARS—Emily Ward, Kaylee Deal, Caroline Durden
APPLE VENDOR—Jade McQuaig
FORTUNE TELLER—Rose Kazak
PRINCE ABDULLAH—Madison Harvey
PRINCE ABDULLAH'S ATTENDANTS—Samantha Warren, Camille Clemons
ISIR—Marley Sees
MANAL—Siyonna Wilkerson
RAJAH—Katy Zan Embry
SPOOKY VOICE & CAVE OF WONDERS—Hayne Woodward
ABU—Emily Jones
MAGIC CARPET—Jade McQuaig
AGRABAHNS, GENIE'S MAGICAL ENSEMBLE, PRINCE ALI'S ENTOURAGE
Ziyonna Holly
A'nyah Hicks
Ann Parker
Carley Peden
Max Griffin
Gabriella Devine
Gracie Beasley
Janeajah Turner
Jya Ewing
Kassidy Littles
Lighting Tech--Alexia Reed
Lucy Keely
Meghan Geeter
Melodie Anderson
Samoria Reedy
Sophia Pellegrino
Madeleine Rickard
Kennedy Littles
Taliyah Reed
Annalia Small
Olivia Long
- Cast List "B" -
(in order of appearance)
GENIE—Dearing James
ALADDIN—Ryan Wolfe
BABKAK—Abby Smith
OMAR—Layla Herrera
KASIM—Daniel Wright
JASMINE—Skylar Berry
SULTAN—Benny Stansel
JAFAR—Shivam Patel
IAGO—Demia Hartwell
SHOP OWNER— Sabina Mace
RAZOUL—Lane Preston
GUARDS—Meri Pate Tedders, Gracie Cork
HAREM GIRLS / BEGGARS—Cadence Allen, Maddie Grace Brown, Lindsey Ponder, Emily Altman
APPLE VENDOR—Morgan Mincey
FORTUNE TELLER—Bailey Bryson
PRINCE ABDULLAH—Justin Brack
PRINCE ABDULLAH'S ATTENDANTS—Sachi Shah, Mackenzie Deal
ISIR—Nhi Dao
MANAL—Kayleigh Hardee
RAJAH—Jordan Aycock
SPOOKY VOICE & CAVE OF WONDERS—Mason Brinson
ABU—Tina Piltner
MAGIC CARPET—Erin Shen
AGRABAHNS, GENIE'S MAGICAL ENSEMBLE, PRINCE ALI'S ENTOURAGE
Sydney Bonistall
Juliette Brannen
Naomi Feltman
Katie McCorkle
Abby Quinn
Yuri Rodriguez-Diaz
Lighting tech--Olivia Long
Abigayle Smith
Kandice Allen
Abby Cannady
Abigayle Gunter
Isabella Halaby
Gabbie Wallace
Mackenzie Harvey