Feed the Boro saw huge demand for food again on Saturday, April 9, 2022, for what has now become a monthly food drop. The first cars began lining up at 4 AM in the Statesboro High School parking lot. Hundreds of cars were in line when volunteers began the distribution a little after 8 am.
Below is a live video that allows you to see the hundreds of cars who waited in line hours for for food.
The April Feed the Boro (FTB) Food Drop, presented by Food Lion and was sponsored by CORE Credit Union and the City of Statesboro.
CORE Credit Union team members and board of directors, joined other volunteers including members of the GS Girls Basketball team, in 36 degree weather, to distribute food to over 1,000 families.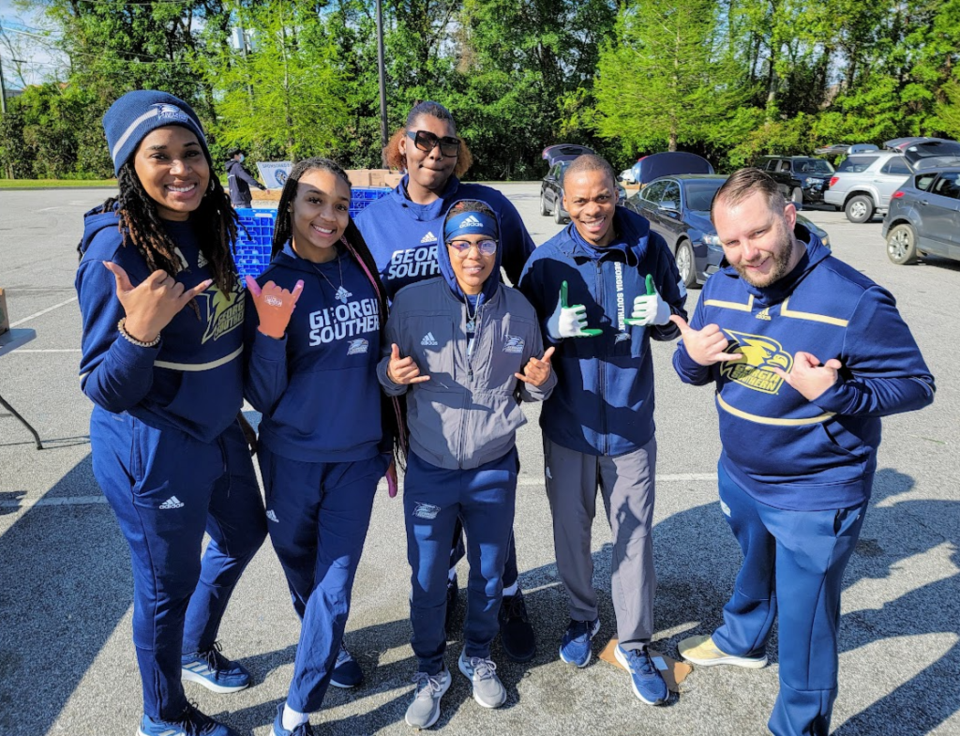 Large Need Continues in Bulloch County
Bulloch County has a 29% poverty rate, which means that close to 1 out of 3 people may go to bed hungry tonight. Even with help from other local sources, this is still a shocking figure. Feed the Boro has been asked to continue our food drops that supply a family of four, two meals a day for a week and to do so, they need the help of our community. FTB invites you to volunteer and join in the efforts to feed the less fortunate. 
If volunteer spots may be filled, there is another way you can help.  FTB encourages you to sponsor a meal for an individual or a family.  For a contribution of $15 you can sponsor a family of three. $25 – family of five, $100 – 20 people, etc.
Thanks to our generous sponsors, it only costs around $5 per person to provide groceries for a week.
Feed the Boro continues to raise funds to help with this and other FTB projects. Two easy ways to give is through a check made payable to: Feed the Boro P.O. Box. 2736, Statesboro, 30459 and also online at www.feedtheboro.com.