Wearing stylish vaccine pins is a quick and easy way to share with others that you have taken the COVID-19 vaccine. Edie Grace Grice, a psychology major at Georgia Southern, created the "V for vaccinated" lapel pins as a way to help raise awareness and funds to support COVID vaccine efforts.
"Everyone wants life to get back to normal as quickly as possible, especially college students. One of the fastest ways to accomplish this is for as many people as possible to get the COVID vaccine", said Edie Grace Grice. "As a psychology major, I see the effects COVID has not only physically but mentally. Wanting to do my part in making a difference, I created these 'Victory over COVID' vaccine pins".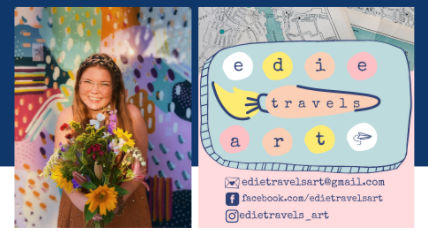 After developing the idea, Edie designed the pins and worked with Fred David who owns "The Marketing Department" a local print and novelty item vendor.
"I really felt like this was a great idea because Mr. David was so excited about it", said Edie Grice. "He worked with me to develop a prototype and then we printed 100 vaccine pins and they sold out in two hours."
Everyone who purchased the lapel pins loves them and now all of their family and friends who have been vaccinated want them also. She has ordered a large supply and are now releasing them more widely online and at select locations.
Edie also offered a special thanks to A-Line Printing in Statesboro for printing the display cards that each pin will be attached to. Her goal was to use as many local vendors as possible. The A-Line team are also huge Grice Connect fans.
Dave Williams, WJCL TV Savannah recently featured Edie and the V-Pin project. Click here to view the story.
Recognition to all the local vaccine providers who have done a remarkable job vaccinating our community is a main goal of Edie's. Three of which have already agreed to sell the vaccination pins including: Forest Heights Pharmacy, McCook's Pharmacy and Nightingale Services.
By purchasing & wearing this Vaccination lapel pin you are:
alerting people that you have been vaccinated
sharing your SAFE vaccination experience
doing your part to save lives and restore livelihoods
supporting Vaccine Education and Clinics
Edie is dedicating a percentage of the sales of the lapel pins to help with the vaccination efforts.

Click below to buy yours today: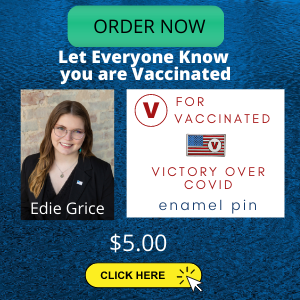 You can also purchase the vaccination pins in Statesboro at:
About the Artist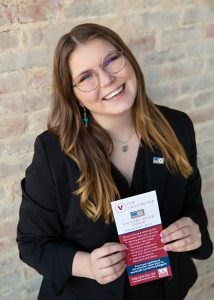 Edie is excited to share this new project with you, V for COVID vaccinated lapel pins. Through this project, she hopes to increase awareness about the safety of the vaccine, inspire others to do their part by getting vaccinated and raise funds to support COVID vaccination events & clinics.
Edie is a Georgia Southern Psychology Major and a Georgia artist. She specializes in watercolor paintings, hand lettering and graphic Design.
Making art has been a lifelong passion of Edie's, but during quarantine she used the creation of art as an escape. Edie spent her time in quarantine painting scenes of places she wished she could travel to.
Edie was inspired to take her creative passion seriously after the sudden death of one of her close friends and fellow GS Student Kathryn Mullins. Kathryn had a small business where she created and sold stickers. days before Kathryn's tragic death, she shared a new sticker idea with Edie, which was a self portrait. Edie felt led to finish the sticker Kathryn designed and sell them in her honor. Edie then donated the money raised by Kathryn's sticker Project to her church in her memory.
This was the beginning of "Edie travels art". Edie's work has been featured in galleries throughout Georgia. Her art is popular with individuals commissioning her to paint personal projects for them.
"It was a dream come true to have people believe in my art enough to ask me to make something special for them and to help great causes at the same time", said Edie.
Edie loves spending her days making beautiful things and working on projects with people to make their creative dreams come true.
Visit edietravels_art on Instagram and facebook.com/edietravelsart to see more of her art or to commission Edie for your own personal art project.