Grice Connect experienced a technical issue on Tuesday, November 22, 2022 that impacted our "Bulloch Daily" email that over 10,000 Statesboro and Bulloch County residents depend on for their daily news, community information, events calendar and obituaries.
View today's "Bulloch Daily" below:
Our technical team was working on technical upgrades throughout the night along with some routine maintenance to our email server which caused a delay in the 6 am email. An email was sent out around 6:30 AM however it did not include local news.
The technical team now has that corrected and a 7:00 AM email was sent that included local news.
We understand that many of you depend on our "Bulloch Daily" for your daily news and appreciate the trust you place in the Grice Connect team to deliver uplifting, relevant and timely news.
This is something we do not take for granted and our small, Statesboro-Bulloch loving team, work hard everyday to exceed your expectations in delivering the news and information you need.
We apologize for this technical issue and appreciate your understanding.
Not receiving the FREE Bulloch Daily?
Sign up now!
It is OK if you didn't know about the one email everyone looks forward to every morning, the "Bulloch Daily." The "Bulloch Daily" is filled with information you will not find on Facebook, Instagram, Twitter or Linkedin including an interactive calendar of local events and all local obituaries.
Best yet, by subscribing you get to see all the news stories we share, not just the ones Facebook algorithms decide to place in your news feed. You get to decide what news and information is important to you instead of allowing Facebook to guess what you want to see.
Sign up below and if it not everything we promise, we make it easy to unsubscribe with one click.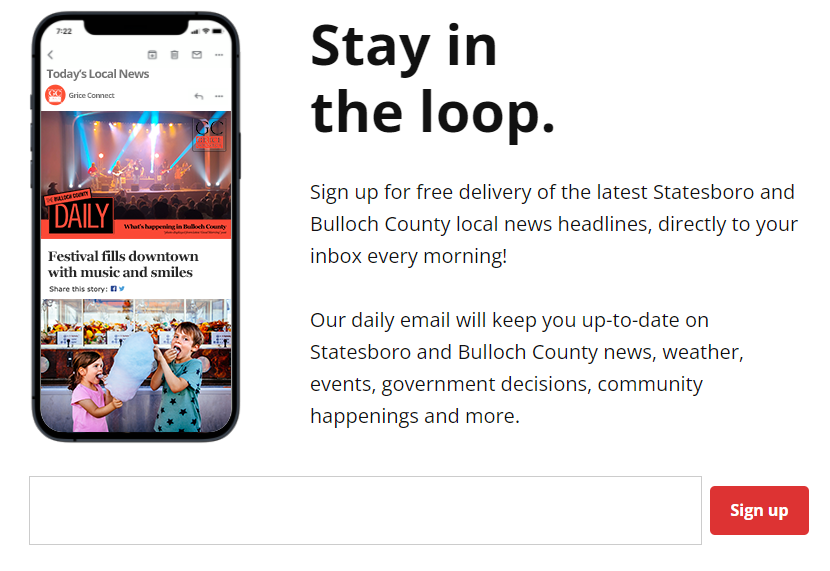 Thank you for depending on Grice Connect as your Statesboro-Bulloch County hyper-local news source. Have a wonderful Thanksgiving Week.