This holiday season, Fixing the Boro is hosting a big fundraiser to benefit the pets in their care. FTB is making a variety of custom pet ornaments that are available for purchase at the Snip Clinic.
Traditional metal ornaments will have the Fixing The Boro 2022 statistics on the back. It will feature stats that detail how many animals were rescued this year and how many were altered at the Snip Clinic. Currently, the plan for this style of ornaments is to have them change in design every year so they can be collectible items for patrons.
Custom ornaments can be purchased in three different types depending on preference.
"We have got a plaid paw print that is a wooden ornament," FTB co-founder Sarah Roehm said. "We have a plaid paw print with wings, so for a memorial -- a customized pet ornament that you can put your pet's name on. And then, we have two different colors of globes, a clear globe and a white globe, that are hand-painted and have your pet's name put on them."
Adoptable animals
For those looking to add a pet to their family this holiday season, adoption is a wonderful option. Fixing the Boro has so many adorable dogs, cats, and small animals in foster care who would love a forever home this Christmas.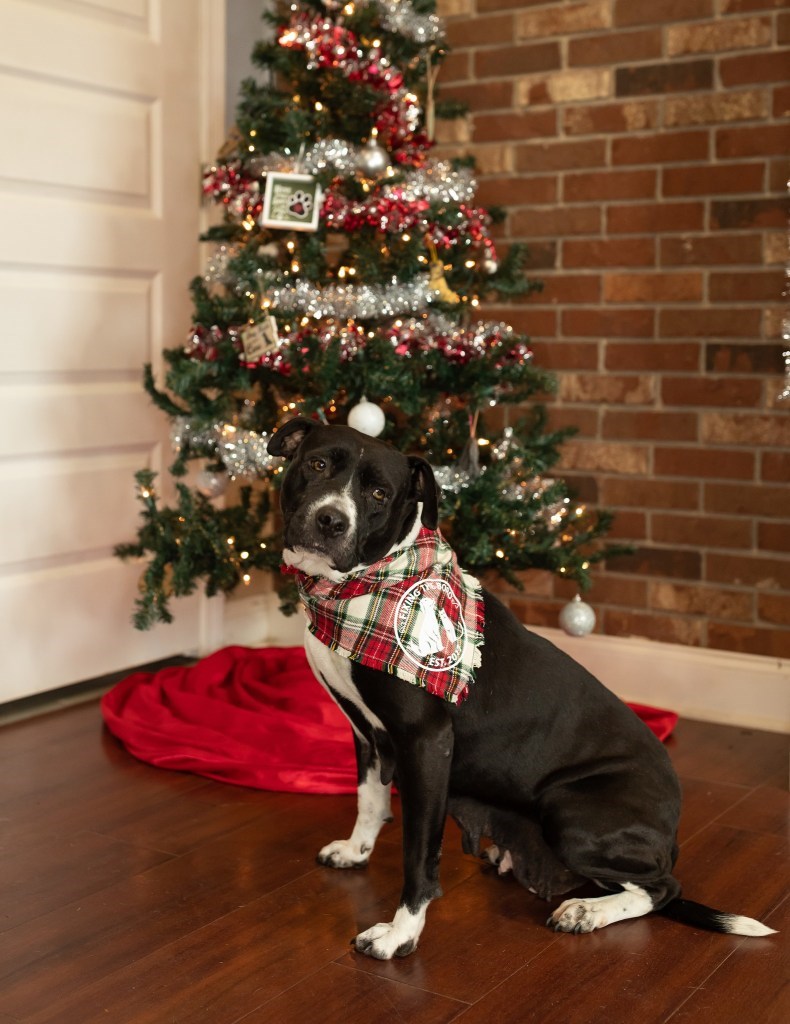 The cost of adopting a pet from Fixing the Boro varies based not on the pet's species but the pet's age.
"You can adopt an adult Great Dane for the same price that you can adopt an adult mixed breed," Sarah said. "But typically, our senior dogs are $125, our adult dogs are $160, and our puppies that are six months to a year are $200 or $250."
Obviously, the younger the pet, the higher the price, but there is a good reason for this. Lowering the cost of older dogs allows these pets to find homes.
"A lot of people are interested in young adults or puppies," she explained. "And preference rules the world, but we want to incentivize some of these absolutely awesome golden year dogs that have 'been there, done that' mentally and usually are already trained, good with dogs and cats, and already figured out how to live in a home and be a great dog."
You can find links to FTB's adoption application and their list of adoptable pets on Petfinder here.
Tis the season for giving
This year, Fixing the Boro has saved a total of 675 animals including dogs, cats, and other small animals like rabbits or guinea pigs, and even hamsters. Of course, being a nonprofit means it takes a lot of work for Fixing the Boro to be sustainable.
Fixing the Boro relies on fundraisers and donations to keep itself afloat and to keep foster homes available for strays. Often to help get these rescued animals good homes, the shelter will go out of its way to participate as a vendor at other events, such as the recent Cowboy Christmas event, where they brought along 10 pets up for adoption. In addition, they sold the customizable pet ornaments, sweatshirts, t-shirts, and holiday harnesses, all of which can still be purchased at the clinic for the holidays.
"Nobody wants to ask for money, but the reality is to do what we do, to continue taking in needy animals, homeless animals, sick animals from our community; it costs a lot of money," Roehm said. "We are in a good amount of debt and trying our very hardest to pay it down to zero before the end of the year. So if anybody you know that has a little bit of everything is looking to make an impact in their own backyard for Christmas, we would be so grateful for the donation."
About Fixing the Boro
Fixing The Boro is a 501c3 Georgia Licensed Animal Rescue shelter. Not only can you adopt pets from them, but they also have a low-cost spay-neuter clinic, The Snip Clinic.
"What we offer to the public is low-cost, spay-neuter surgeries," said Roehm. "We have low-cost vaccines, preventative care like flea tick heartworm parasite prevention, and we also have the ability to do things like microchipping."
While Fixing the Boro isn't a full-fledged veterinarian organization, they offer low-cost yearly or monthly care services.
For those who may not be interested in owning a pet or have the money to keep up with one but still want to help the cause, you can still do your part this holiday season and donate to Fixing the Boro online here or stop by the Snip Clinic to purchase an ornament or another gift.
The clinic is open Sunday-Wednesday, 8am to 6pm, at 915 E. Inman Street near Ogeechee Area Hospice. Call 912-205-5978 for more information.