The Bulloch County Recreation and Parks (BCRP) department has CANCELLED the fireworks for the July 3, Firecracker Fest 2022. ONLY THE FIREWORKS HAVE BEEN CANCELLED. ALL OTHER ACTIVITIES WILL CONTINUE. BCRP is working with the vendor to reschedule the fireworks show at a later date.
According to Kimberly Sharpe, Events and Communications Coordinator with BCRP the show has been cancelled due to a medical emergency with the fireworks vendor. The vendor was injured in an accident last night requiring the show to be cancelled tonight. Bulloch County Recreation and Parks department will postpone the fireworks show scheduled for July 3 only. All other activities will continue on July 3. At this point, they have exhausted all other options and do not have a way to produce the fireworks show.
This year's festival favorites including the greased pole climb, frog jump contest, wet and dry inflatables for the kids, games, and tattoo/hair art will continue. A Statesboro Fire Department fire truck will also be at the event for kids to explore. These activities are free for everyone from 5-8:30pm. The frog jump contest will be held on Field 3, but all other children's activities will be on Field 5.

The main stage on Field 1 will feature live music from Color the Night and Chyann Rose. Headliner Color the Night is a band of all-pro players who perform a wide variety of party music from the past five decades including funk, classic rock, R&B, and 80s. They will perform from 5:30-7pm and again from 7:45-9pm. Chyann Rose is a local singer, songwriter, and musician who performs country, southern rock, and classics. She will entertain on Field 1 from 7-7:45pm.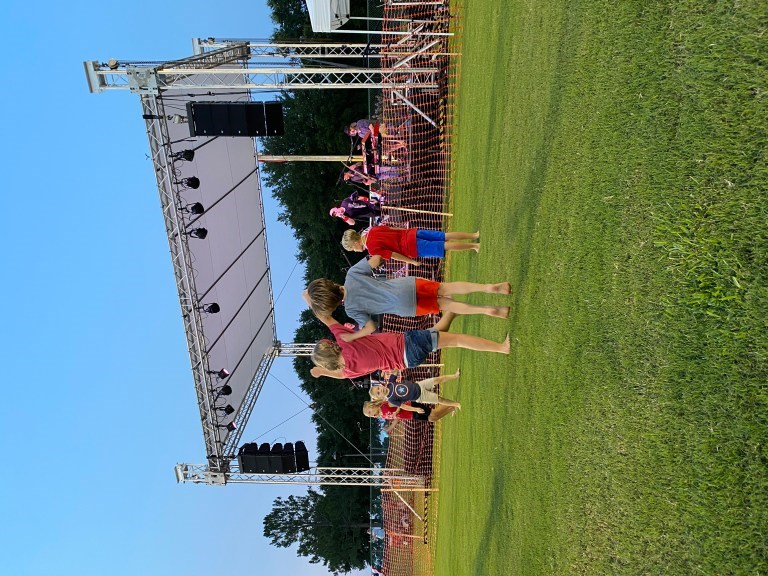 Concessions and food vendors will be available throughout the night. Full concessions will be offered at the hub in the middle of the fields, and a drink station will be available on Field 5. In addition, twelve food vendors will be on site offering a variety of delicious food including barbeque, ribs, wings, hamburgers, hot dogs, snow cones, sweets, and boiled peanuts.
"The Firecracker Fest is a great event for everyone in our community, and we are proud to be able to host once again," said Eddie Canon, Director of BCRP. "We will do everything we can to help our guests have a safe, fun Independence Day celebration."
This year's Firecracker Fest is sponsored by Cardinal LG, Briggs and Stratton, Coca-Cola, the Kiwanis Club of Statesboro, Brickhouse Live, TC Outdoors, The Advantage Team with Statesboro Properties, Vyve, Rotary Club of Statesboro, Statesboro Golf Carts, and ViaMedia.

More details and information on the festival are available here. The 2022 traffic plan is included at the bottom of this article.
Tips for Enjoying the Fest
Whether you've attended Firecracker Fest for many years or will be going for the first time, check out these tips and suggestions for having a great experience.

Follow the dos and don'ts. To keep this event fun, safe, and free for our community, it's important for everyone to stick to the rules. Here's an easy reference table of what is and is not allowed at Firecracker Fest.
Enjoy:
For everyone's safety and enjoyment, NO:
Tents before 7:30pm on Field 1
Tents after 7:30pm or any time on Fields 2 & 5
Coolers and outside food/drink
Alcohol or tobacco
Chairs, blankets, and wagons
Glass containers
Grilling on the provided grills at the
playground pavilion
Selling items/handing out information, unless pre-approved and in designated areas
Concessions and food vendors
Pets inside the complex or on the fields
Inflatables, live music, games, and fireworks
Personal grills/Grilling within the complex
A fun time with your family, friends, and our community!
Personal fireworks
Consider bringing a picnic. Concessions are a great option if you don't want to bring your own food into the park, but be aware that the lines can get very long at some of the vendors. Consider stopping by your favorite restaurant ahead of time and bringing a meal along with you. Then you can enjoy a treat from concessions later in the evening when the lines have calmed down!

The Parks staff members work hard to keep Mill Creek clean – even staying well after the event to pick up trash – so just make sure to dispose of everything. The easiest option is to bring your own trash bag to use all night and drop it off as you leave!

Make a plan for lost kids. There will be thousands out enjoying this event! With all the fun and excitement, it can be easy for kids to get separated from their parents.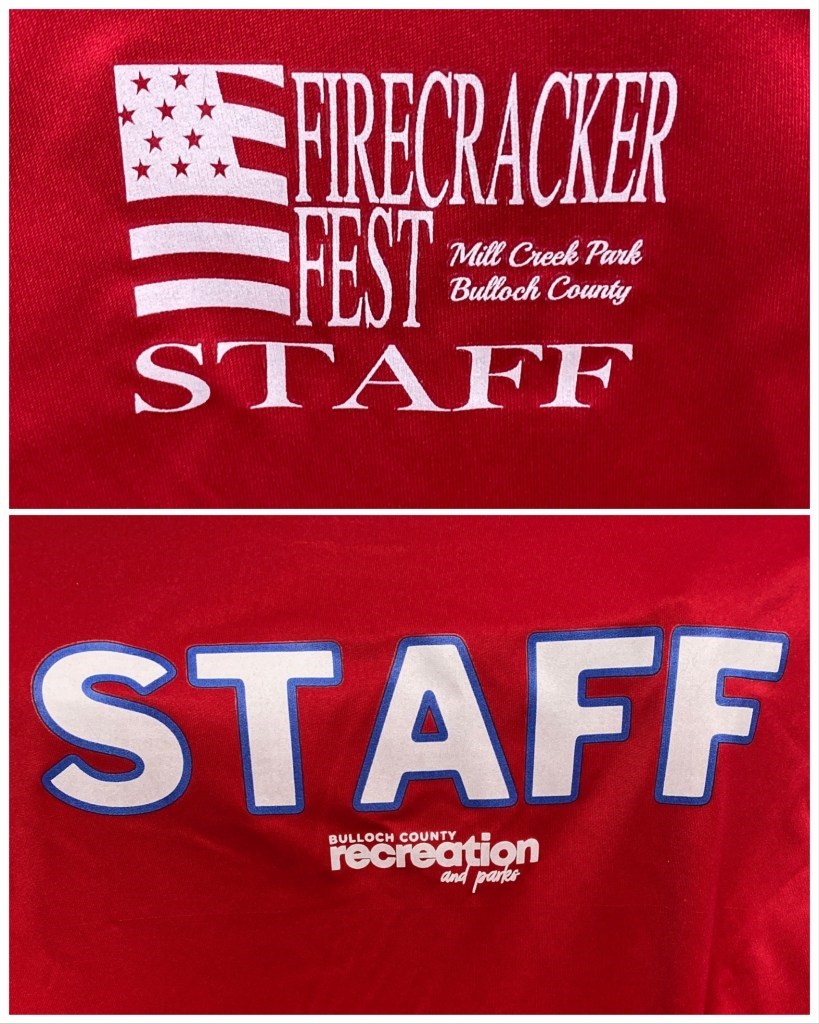 When you arrive at the fest, visit the information tent at the hub near concessions or the BCRP tent on Field 5 to pick up a free red safety armband for your child. It will include your name and phone number. While you're there, show them the staff shirts for this year so they will know who to ask for help if needed. Staff locating lost children will take them to the information tent in the hub near concessions.
Think about designating a meeting spot with your kids ahead of time, as well. In the event they suddenly can't find you, they can go immediately to that spot to wait for you. The information tent is the best option for this.

The lights will be off in the park for the fireworks starting at 9:15pm, so make sure to have your family together prior to that.

Be patient in the parking lots! You will be out quickly. Although kids will be tired and everyone will be ready to get home after the event, please be patient and considerate! With the help of law enforcement, exiting the park is a very efficient process, so don't be hesitant to park within Mill Creek. You will be out quicker than you think.
The nearby churches and businesses along Highway 24 do offer affordable parking, though, and some even have games and treats for kids! If you park at one of these places, just know you may have to wait a little longer to leave and will only be able to turn right onto Highway 24 to exit. Also consider bringing a flashlight or glow sticks for walking back across the highway to get to your car.
If you plan to be picked up from the event, let your ride know that they will be re-routed down Highway 80 to Burkhalter Rd. to Zettwell Rd. and approach the park from the opposite direction.
Finally, thank a staff member and a law enforcement officer before you go. This is a huge event that takes an incredible amount of planning. BCRP staff as well as law enforcement officers will be working from morning until late at night to make sure the Firecracker Fest is fun and safe for everybody. Make sure to tell them thank you if you see them on your way out!
Firecracker Fest 2022
Sunday, July 3
5-9pm
Mill Creek Regional Park
888 Highway 24 E.
Statesboro GA 30461
https://bullochrec.com/4th-of-july-information/


2022 Firecracker Fest Traffic Plan
BCRP has worked with local law enforcement to create the safest, most convenient traffic plan for this year's event.

There are two things that are especially important to note this year. Exiting priority will be given to those parked within the Mill Creek complex, rather than those parked at nearby businesses. Secondly, the "back" exit of the park (along Beasley Rd.) will be closed to traffic this year. Do not attempt to enter or exit there.
For your safety and the safety of all drivers and pedestrians, please review this plan and follow directions from Parks staff and law enforcement officers at the event.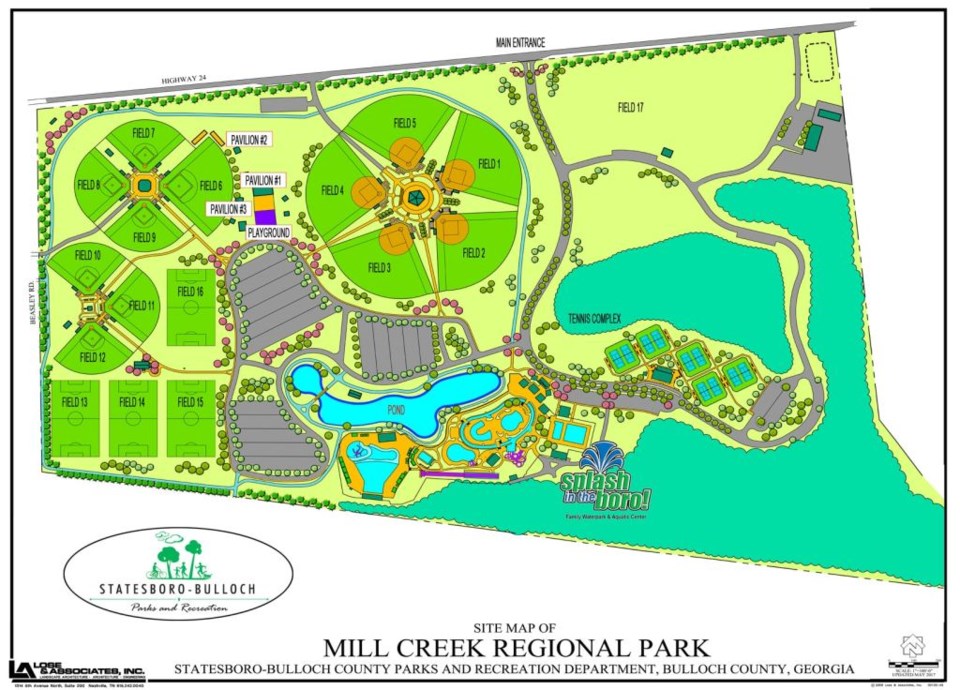 Mill Creek Regional Park Traffic Exiting Plan
Please note the following flow of traffic on Highway 24 for Sunday, July 3rd:
Starting at 8:45pm, no traffic will be allowed down Highway 24 from the 301 Bypass to the recycling center just past the main entrance to Mill Creek Regional Park.

From 9:30pm until 10:30pm, traffic will exit out of the main entrance of the park using both lanes. The right lane will be directed right or left onto Highway 24; the left lane will be directed left onto Highway 24.

Traffic exiting from residences and businesses across Highway 24 from Mill Creek Regional Park will only be allowed to turn right (west) onto Highway 24.

Both lanes of Highway 24 will go straight to the bypass. The right lane of Highway 24 will be allowed to travel right onto the bypass or straight on Highway 24/East Main. The left lane of Highway 24 will be directed left onto the bypass.
Traffic from Mill Creek Elementary will be directed right onto Beasley Road to Highway 80. Traffic exiting from Bible Baptist, Trinity Church, and Barnes Lumber will be directed right onto Highway 24 to the bypass for access to Highways 80 and 301.

Exiting preference will be given to people parked in designated areas within Mill Creek Regional Park.
Any traffic wishing to travel down Hwy 24 after 8:45pm will be rerouted to Hwy 80 East to Burkhalter Road, where you will turn left and travel down to Zettwell Road and turn left again. This will take you back to Hwy 24 on the opposite side of Mill Creek Regional Park.
This plan has been created for your safety with the expertise of local law enforcement and Georgia Highway Patrol. Be safe.
The Back Exit will be CLOSED FOR THE EVENT. This will allow us to have a direct access point into and out of the park if needed for emergencies. Traffic will be stopped at the intersection of Brannen and Beasley Roads, and only residents will be allowed to turn down Brannen Road.