The Marketplace on 67, with its familiar red facade, is a landmark along Highway 67 as you're heading to Savannah near I-16. This is the Marketplace's 24th year in business, but owner Kim Adams has announced that she will retire at the end of this year and close the store. The building and property has been sold.
Read on to learn more about how the beloved store came to be, the closing, and the retirement sale Adams is holding now through the end of the year.
Beginnings
Turning a hobby into a thriving business
Kim Adams has been in the antiques business for 30 years. She started antiquing as a hobby in 1993 while she was working in the Bulloch County School System with the Board of Education. She enjoyed going to yard sales, estate sales, and auctions collecting what she could for the home she and her husband were building.
By the time they finished building, she realized she had accumulated a lot of excess that she didn't really need. She decided to rent a building off Highway 67 in Denmark on the weekends to sell her surplus. She went from renting the building on the weekends to renting it by the month. Before she knew it, 7 years had passed.
At this time, her husband suggested that if she really enjoyed doing this, "Let's build something bigger." They opened the current building on Highway 67 in July of 1999, opened 4,000 additional square feet nine months later, then opened yet another 4,000 square feet nine months after that.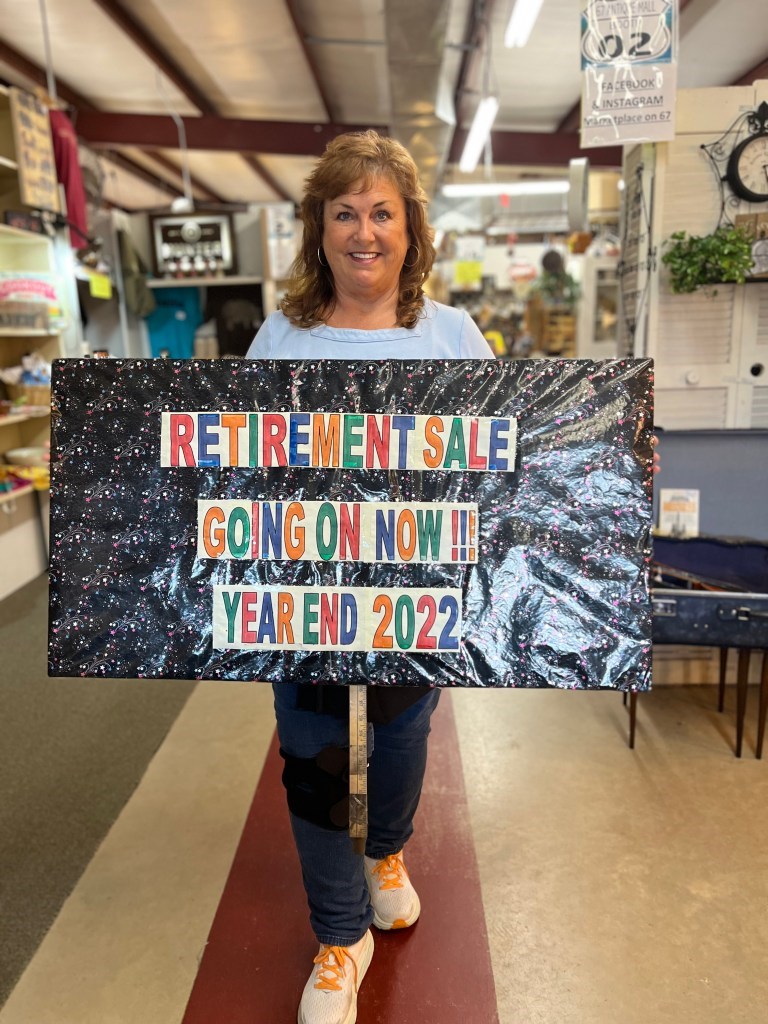 24 years and 50 vendors
This is The Marketplace on 67's 24th year in business with over 12,000 square feet of space.
"It's a multi-vendor building, so it allows vendors to bring in their wares and we sell it for them, with very little shop upkeep for them," Kim said. "They get to go out and do the fun job of finding it, and so it gives the customer a lot better variety."
Kim has a total of 50 vendors. From vintage clothing, glassware, antique furniture, and books to unique collectibles, records, and just some really cool old stuff—no matter your niche you will find something you love. She says she has had wonderful vendors over the years and many have been with her since the day she opened. About 12-14 vendors are retiring with her.
"They were waiting for me to retire, which is kind of sweet," she said. "They are going out with me."
Antiques on the big screen
Since 67 Antiques is so close to Savannah, Kim says they have had an awesome connection with movies filming locally.
"We have been involved in over 40 different movie productions," she said.
She shared that movie crews are good about reaching out ahead of time to tell her what is coming, so she can start the process of finding the right pieces for set.
"Currently, Fear of the Walking Dead is filming in Savannah, so sometimes they will come in with lists of what they need," Kim said, noting that they have loaded up anywhere from 50-80 pieces recently. "The employees love that kind of stuff; it keeps it interesting."

Closing time, a time for new beginnings
The decision to close was not easy for Kim. She still loves what she does, but retirement, spending more time with her husband (who has been retired 16 years), family, and 12 grandchildren were calling. The store being a weekend business means missing out on family functions and sometimes birthdays. Her son, who works alongside her, said he has enjoyed and loved every bit of it.
She initially started thinking about retiring during the 10 week-pandemic shutdown.
Kim said, "I started praying about it and hoped to be led in the right direction, and without putting a 'for sale' sign out, I started getting different offers."
She feels like it was meant to be but still struggles with her decision.
"This was my baby," Kim said. "I built it and put a lot into it, and I will put a lot into it until the last day."

Gratitude for the community
Kim wanted to share her gratitude for the local community and county who have come in throughout the years. They were recently awarded Best Antiques for Best of the Boro in 2022.
"It really warmed my heart that I have had so many follow me through the years, a lot have gotten older and now their kids come in," she shared. "It means a lot to me when you have local repeat customers."
She says she has gotten some of the sweetest responses on social media and in the store once customers found out she was closing and how much she has "enlightened their life" in one way or another.
Don't miss out!
67 Antiques will be closing its doors around Christmas. The vendors have to be out by the end of November, but they are still bringing in their remaining items. Kim is also continually bringing inventory out of storage to sell. There are lots of treasures left at discounted prices, so don't miss out!


Check out their Facebook page for daily posts.
The Marketplace on 67
7041 HWY 67 (@I-16 Exit 127)
Brooklet, Ga.
Hours: 10am-5pm daily, closed Tuesday
Phone: 912-839-2167