All businesses and entrepreneurs in the Statesboro, GA, area are invited to come meet award-winning journalist, entrepreneur and GS Parker School of Business graduate, DeWayne Grice, on Wednesday, November 8, 2023. Coffee and networking begins at 8:30am, with the program following from 9:00 - 10:00am.
The BIG Cafe is located inside the GS Business Innovation Group building at 58 East Main Street in Downtown Statesboro, GA. BIG Cafe is a FREE monthly networking event where local entrepreneurs and community members come together to share their business stories. The aim is to bring our community together while thinking through an entrepreneurial journey. You"ll be happy to know that BIG Cafe is based on 1 Million Cups, a nation-wide program that happens all over America!
DeWayne will share Grice Connect's mission to change the way local news and media impact our community. Their Solutions-Based Journalism approach focuses on solving issues and highlighting the people who make our community special. This "Grice Good" approach has become contagious in helping rebuild the social capital of our community.
"When we began Grice Connect, our goal was simple: to provide a central place where Bulloch County residents could go for local news, events and obituaries updated daily," said DeWayne Grice, Founder of Grice Connect. "Doing this well helps strengthen the social capital of our community, which is the magic to making our community the best place to live, work, and play."
$1,200 of sponsorship on Grice Connect available to attendees
With over 350,000 unique views monthly to the Grice Connect website, more than 23,000 subscribers to their Bulloch Daily morning emails, and 23,000 Facebook followers, Grice Connect has unquestionably become Statesboro and Bulloch County's choice for the news you need, when you need it.
If you own or manage a small business in Statesboro, then you need to understand how to best utilize Grice Connect to reach your customers.
This is one FREE program that you do not want to miss. DeWayne and his team will give tips on how to use Grice Connect to immediately boost your business.
In addition, for everyone who attends the BIG Cafe and registers for a free marketing consultation with a member of the Grice team before November 30th, you will receive $1,200 in sponsorship to boost your business on Grice Connect for FREE.
This promises to be the best hour and half you will spend all year to grow your business.
2023 Audience Choice Winner in The Next Challenge for Media & Journalism
In May, Grice Connect won the Next Challenge Audience Choice Award. The contest began with 360 entries, which was narrowed to 36, then 11. The 36 finalists across three divisions were all eligible for the public voting award. Over 6,000 votes were cast, and Grice Connect edged out the closest competitor by only 80 votes.
Grice Connect was also named a finalist in the Future of News Division, supported by Knight Foundation. This competition is looking for a startup pioneering new ways to report the news and provide communities with fact-based insight, analysis, and information.
"We never dreamed our simple idea to connect our community would become a global model for hyper-local news operations. This award would not have been possible without each member of the Grice Connect team, here in Statesboro and in Canada, working so hard for this community daily. Along with the incredible local businesses and individuals who provide financial support." --DeWayne Grice, Founder, Grice Connect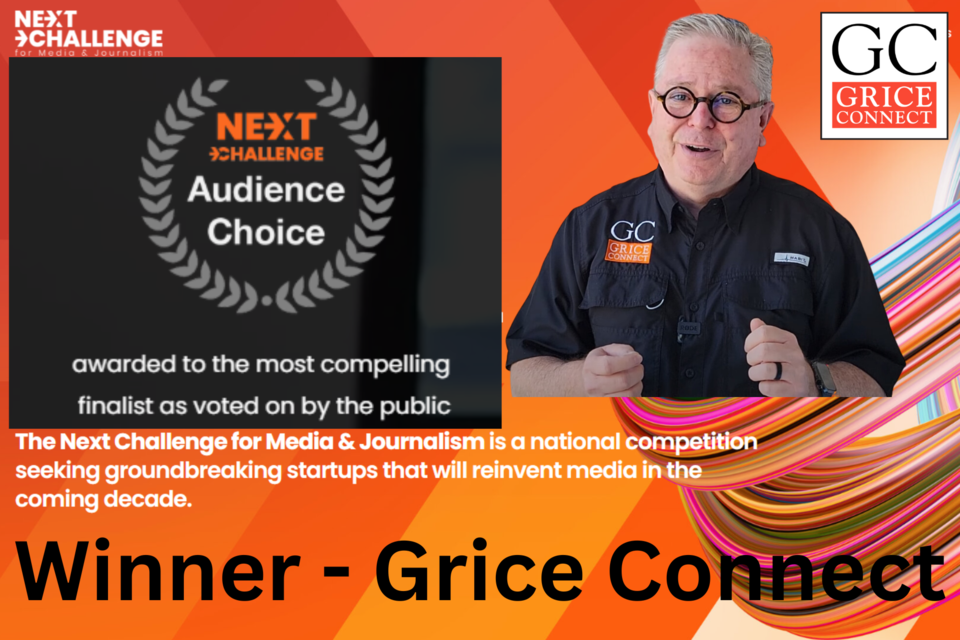 Invest in your business by joining DeWayne Grice and the Grice Connect team for this BIG Cafe program.