Grice Connect has partnered with SECO ECOPLASTIC and the Kiwanis Ogeechee Fair to bring this comprehensive, interactive 2023 Kiwanis Ogeechee Fair information guide to you. This guide is designed to give you one place to quickly locate any information you may need about the fair.
CLICK HERE TO PURCHASE ADMISSION AND UNLIMITED WRIST BANDS NOW!
Kiwanis Ogeechee Fair Parade
The Kiwanis Ogeechee Fair Parade will be held on Monday, October 16, 2023 beginning at 5 PM in downtown Statesboro.
The parade route begins at Morris Bank on Hwy 301 North, continues through downtown Statesboro, then bears left at Fair Road and ends at Wendy's on Fair Road.
The parade will be live streamed by Grice Connect on Grice Connect's Facebook Page and Grice Connect's You Tube Channel.
Parade Float Winners
Southern Manor Senior Living
STEAM Academy
Queensborough Bank
Fixing the Boro
Believers Church of Statesboro
Kiwanis Ogeechee Fair Dates
The Georgia Southern Homecoming Parade and the Kiwanis Fair Parade are combined this year and will be held on Monday, October 16, 2023 at 5 PM in downtown Statesboro, GA. The parade will be live streamed on Grice Connect's Facebook page.

The Fair is Monday, October 16, through Saturday, October 21, 2023, at the Kiwanis Fairgrounds, 16942 GA-67, Statesboro, GA 30458.
Kiwanis Ogeechee Fair Hours
Monday: 6 PM-12 AM
Tuesday: 4 PM-12 AM
Wednesday: 4 PM-12 AM
Thursday: 4 PM-12 AM
Friday: 4 PM-1 AM
Saturday: 12:00 PM-12 AM
(The ticket window will close at 10PM Monday-Thursday & Saturday and 11 PM on Friday.)
Admission Ticket Pricing
$8 Advanced Online Admission
$10 at the Gate
Children 5 and under get in FREE!
Tuesday: Seniors 65 or better-Free Admission
Purchase Admission Tickets NOW and SAVE
AVOID ADMISSION GATE LINES! GET ADVANCED TICKETS AND GO IMMEDIATELY IN - CLICK HERE to Purchase Single Day Advanced Admission Tickets and save $2.
Express Entry for Advance Ticket Holders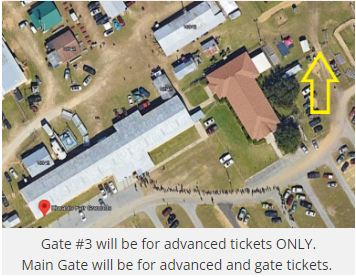 When you purchase the tickets, you will have an option to print a paper ticket, or you can download the ticket electronically to your phone. When you arrive at the fair, you can go directly to the gate and bypass the line to purchase admission tickets.
There is an express entry gate on the side of the fairgrounds for advanced ticket holders. See yellow arrow.
Cost of Tickets and Wrist Stamps
Wrist Stamps will be offered EVERY night of the fair this year.
Unlimited Rides Wrist Stamp Costs:
CLICK HERE to Purchase online so you will get to the rides faster. You can also purchase inside the fairgrounds.
$30 Monday through Friday
$35 on Saturday
RIDE CREDITS (PURCHASED ON SITE)
10 Credits for $1
100 Credits for $10
200 Credits for $18
550 Credits for $48
1130 Credits for $98
Each ride takes 40-75 credits to ride.
Activation fee for funtix card and wristband not included.
CLICK HERE TO VIEW ALL RIDES ALONG WITH HEIGHT REQUIREMENTS.
Cash and Credit Cards
Cash or cards can be used for admission.
Vendors do not take credit cards. So bring cash.
ATMs are available on site. There may be an additional charge to use ATM at the fair.
NIGHTLY ENTERTAINMENT
Musical Entertainment - 7 to 10 PM
Monday - The Fractions from Savannah, GA
Tuesday - Drew Wiggins and Friends
Wednesday - Lyn Avenue from Savannah, GA
Thursday - Swinging Medallions "The Party Band of the South"
Friday - The Ripleys
Saturday - Gazzie White & Zamar Worship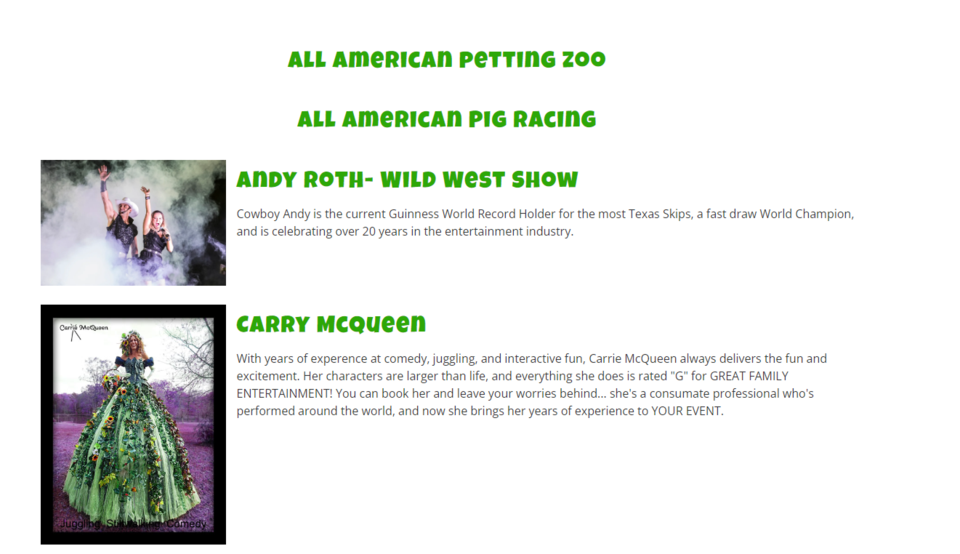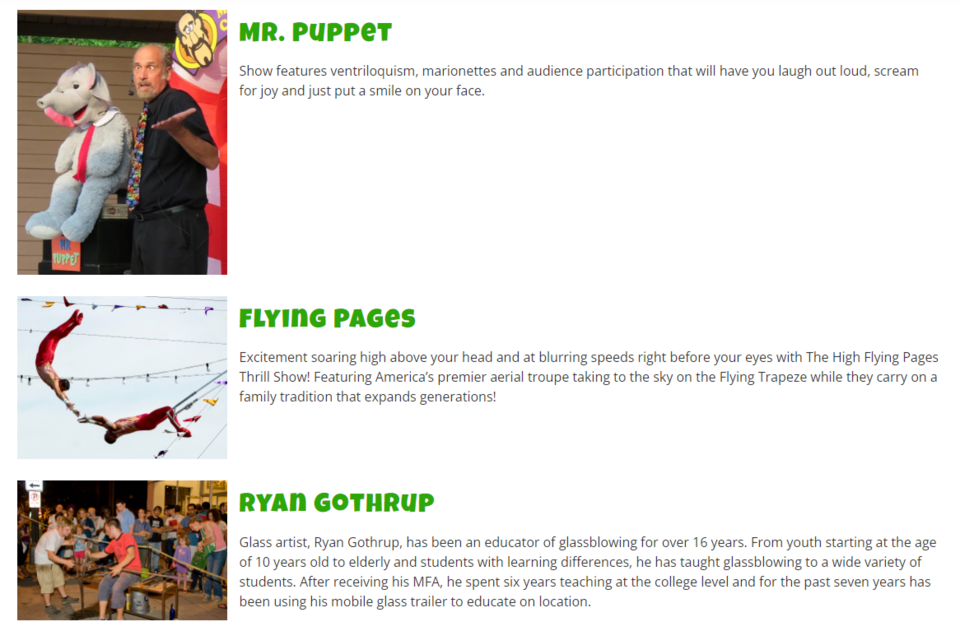 Livestock Shows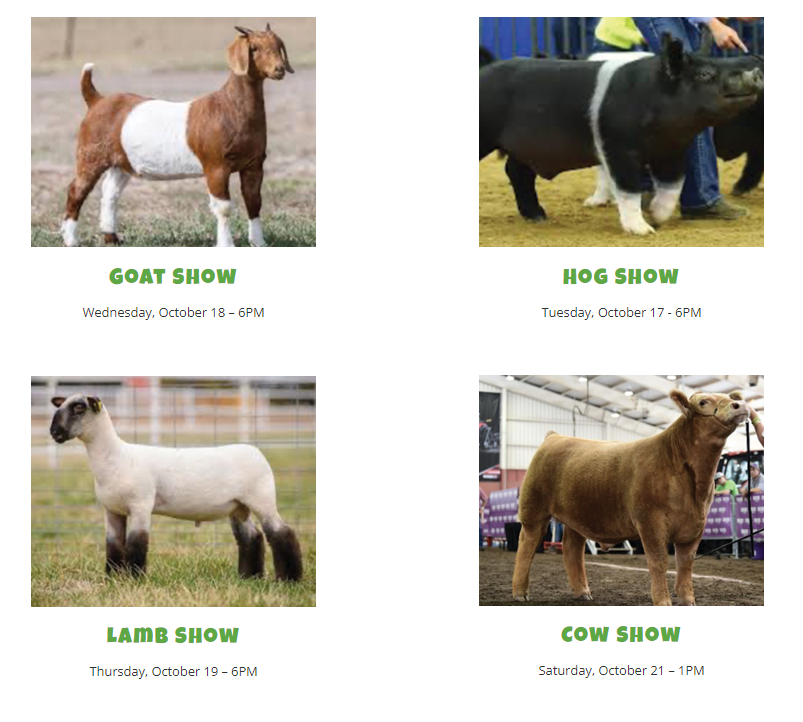 Contest Participants
Contest participants can click here to learn more about check in times and to register online to compete. Check-ins for most are Saturday, October 14, and Sunday, October 15. Click here to learn more.
Heritage Village
Tucked behind the bright lights of the midway, the Heritage Village at the Kiwanis Ogeechee Fairgrounds offers fairgoers a chance to walk back in time and visit our agricultural past as a community.
The Old Store
Visit the 'Old Store" where members Carlton and Mike Bowen offer old fashioned penny candy and 10 cent Cokes (now $1). Bottle Souvenir Georgia Bulldog Cokes $1.50 (with peanuts, $2). This year they also have old fashioned Moon Pies, Cracker Jacks, Whole Pickles, Animal Crackers...and our famous chocolate chip cookies -- 2 for a quarter. With wooden floors and shelves stocked with canned goods that were once staples in every household, "Ole Timers" can reminisce about their youth with grandkids.
The Bee House
You'll also find our newly renovated Bee House in Heritage Village. Bobby Colson and the Bee Keepers Association educate our patrons on the benefit and joys of bee-keeping.
The Poultry Barn
Also in Heritage Village is the Chicken (Poultry) Barn. You'll hear it referred to as either! There you will find flocks of chickens awarded to local young people to raise and show. They are part of the Kiwanis Livestock & Poultry Project.
Under former Kiwanian Jim Phelps, the poultry project became popular. Alex Grovenstein has since taken the reins from Jim and is helping the Livestock Committee to expand it even more!
"Years back Mr. Jim Phelps started this program for kids. He poured his heart and soul into it," Grovenstein said. "Though there are others, the program specifically targets kids who couldn't show a lamb, goat, hog or cow because of space, money or time. I was that kid. I consider it an honor and a responsibility to do my best to carry on the tradition that Mr. Jim started."
Our Heritage Village takes you back in time when things were simple.
You'll also find:
Blacksmith Shop
Aldrich House
Corn meal grinding
Syrup making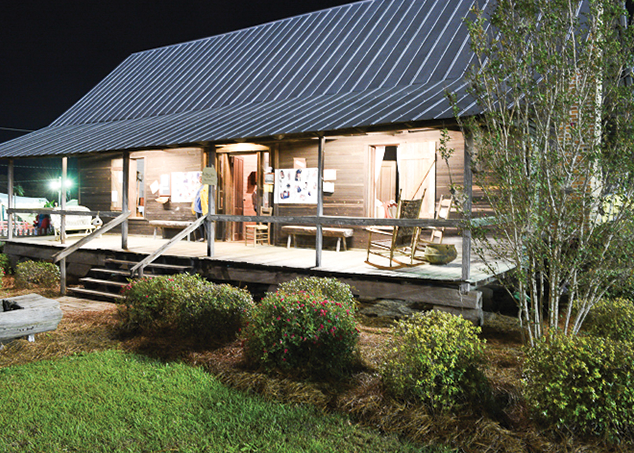 Traffic and Parking
The Bulloch County Sheriff's Office is tasked with directing traffic at the entrance to the Kiwanis Ogeechee Fair.
This is not an easy task, with the only entrance and exit being off of State Route 67.
In an effort to help this process, BCSO are once again sharing the following information and asking for patience and understanding during what we expect to be a busy week.
Commuters Avoid Fair Road between 5 PM and 10 PM daily
If you are commuting and have no plans to attend the fair, we ask that you find an alternate route during fair week. Possible alternate routes include Harville Rd., Pretoria Rushing / Rushing Rd., US Hwy 80 East, and US Hwy 301 South. Please try to avoid this area during peak afternoon hours from 5PM-10PM or expect possible extended wait times.
Fair Attendees Traffic and Parking Information
For those attending the fair, if you are leaving Statesboro once you pass the intersection at Harville Rd and approach the fairgrounds, BOTH the center turn lane and the left lane will be used to access the fair. Please use either lane as they will run simultaneously into the parking lot.
The right lane will be used for thru traffic going southbound. Unfortunately, if you are traveling towards Statesboro, there is only a single lane at the entrance to the fair and you will be at the mercy of the amount of traffic present.
With the vast amount of traffic coming from Statesboro, northbound traffic will have longer wait times so as to not back traffic up into Statesboro causing traffic issues at the bypass.
The Sheriff's Office will assist with traffic exiting the fairground parking when the fair closes. Orange traffic cones will divide the northbound lanes, and fair traffic will utilize the right lane to exit while thru traffic will be forced into the left lane via the traffic cones.
As you approach the fairgrounds from the south, please slow down and watch for Deputies and pedestrians. The properties across State Route 67 from the fairgrounds are private property and those property owners are not allowing parking for those attending the fair. Shown are aerial photos depicting the entrance and exit as described above.
Sheriff Noel Brown thanks you for your cooperation.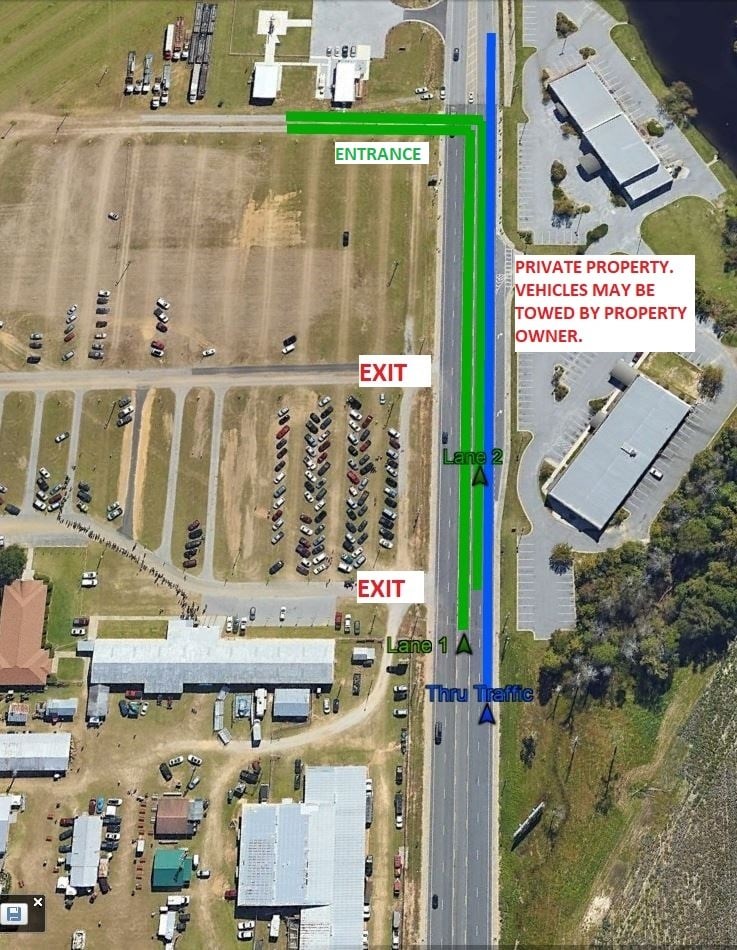 ---
2023 Miss Kiwanis Ogeechee Fair: Peighton White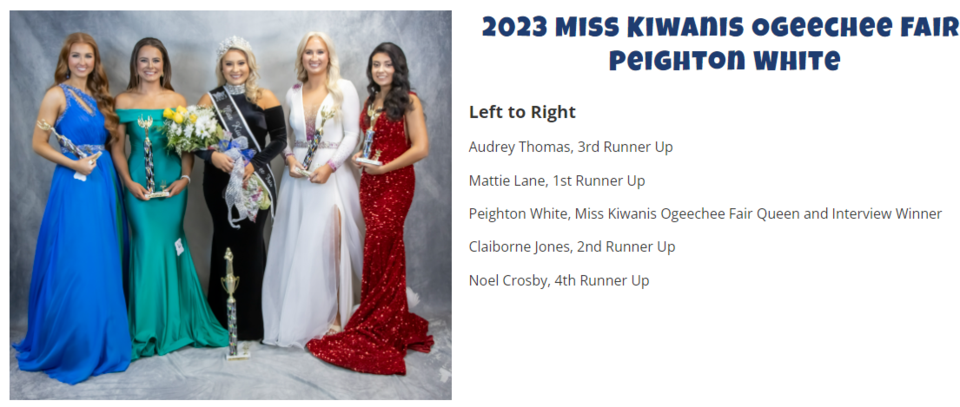 Smoking Policy
NO SMOKING at the fairgrounds. This applies to participants, vendors, and fair workers.
ANYONE CAUGHT SMOKING WILL BE ASKED TO LEAVE.
Fair Media Coverage
Check here for GC news stories about the fair.
Grice Connect Fair Live Stream
Grice Connect has partnered with SECO ECOPLASTIC and the Kiwanis Ogeechee Fair to live stream the parade in its entirety on Grice Connect's Facebook Page. Grice Connect's DeWayne Grice and Kiwanis Ogeechee Fair Team member Lisa Turner will be the announcers for the parade.
A special thanks to Bulloch Solutions and Jorqe Araque for providing technical support and internet access and to Frills by Scott for hosting us on Main and Main in Downtown Statesboro.
This coverage is made possible thanks to the generous support of one of Bulloch County's newest industries, SECO ECOPLASTIC, as part of their partnership in supporting strong local journalism through Grice Connect.