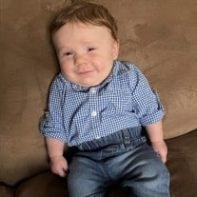 Tatum Silas Manning passed Christmas morning at his residence.
"Tater Tot" as he was affectionately known, will be remembered for his little smile that lit up even the darkest room, the love he had for his big sissy, and just being the happiest little boy. He was preceded in death by a uncle, Jacob Whitchard.
He is survived by his mother, Kyndall Kent of Sylvania; his father, Jacob Manning of Suwannee, FL; sister, Marlee Harrison of Sylvania; grandparents, Judy and Trey Whitchard of Sylvania, Tammy Robertson and James Brady of Lake City, FL, and Russell and Christina Manning of Union Co., FL ; uncles and aunts, Jonathan and Cameron Robertson, Chad Whitchard, all of Lake City, J.D. "Johnny" Whitchard of Sylvania, Hannah Robertson, Tristen Robertson, Kayson Robertson, and Kamden Robertson, all of Lake City; and several cousins and great aunts and uncles.
Graveside services will be held Saturday, December 31, 2022 at 11:00am in the Screven Memorial Cemetery with Rev. Cade Bazemore officiating.
Friends may sign the online register book at www.joineranderson.com
Joiner Anderson Funeral Home Screven Chapel is in charge of all arrangements.
To send flowers or a memorial gift to the family of Tatum Silas Manning please visit our Sympathy Store.