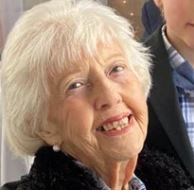 Mrs. Annette Hollingsworth Akins, age 85, died on Thursday May 26, 2022 at her residence. The native and lifelong resident of Bulloch County was a graduate of Marvin Pittman High School and was a homemaker. Mrs. Akins attended Upper Lotts Creek Primitive Baptist Church. She was preceded in death by her parents Loyd and Bessie Deal Hollingsworth; her husband Billy Akins; her brother and sister-in-law Ray and Wilene Hollingsworth; a sister and brother-in law Betty and Wallace Newton and a sister Jewell Hollingsworth Shaw.
Surviving are her two children Wayne Akins and Patsy Sye of Statesboro, GA; three grandchildren Patti Akins (Carl) Huggins, Bessie Sye and Leigh Anne (Robby) Divito; four great grandchildren Ella Deal Huggins, Billy Huggins, Brody DeVito and Charlotte DeVito; two brothers Loyd (Lavinia) Hollingsworth, Jr. and James (Ida) Hollingsworth; a brother-in-law Larry Shaw.
A private graveside service and burial were held on Saturday at Middleground Primitive Baptist Church.
The family requests that memorial contributions be made to Middleground Primitive Baptist Church Cemetery Fund, C/o Gail Smith 321 Sam Tillman Rd. Statesboro, GA 30458.
Friends may sign the online register book at www.joineranderson.com.
Joiner-Anderson Funeral Home & Crematory of Statesboro is in charge of the arrangements.