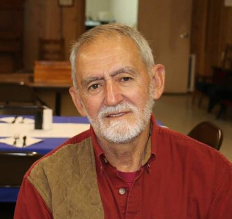 Tommy Jackson "Jacky" Brown, 76, of Cobbtown, Georgia, passed away at his home Friday, November 25, 2022. He was born February 6, 1946, to the late Tommy and Daisy Monroe Brown of Cobbtown, GA. He graduated from Collins High School in 1964 and enjoyed a long career in the textile industry.
Jacky was a member of Excelsior Baptist Church. He was an avid gardener and loved sharing his bounty with friends and relatives. Jacky never met a stranger and was a friend to all. His family was a treasure to him, and he enjoyed his time vacationing with family in the mountains. He was a practical joker and Christmas will not be the same without getting anything you laid down wrapped up and placed under the Christmas tree for Santa to pass out.
He is survived by his wife of 57 years, Willene Grice Brown, of Cobbtown, Ga. Also surviving are his daughter and son in law, Ann (Robin) Malphrus of Ridgeland, SC and two sons, Jeff and Chris Brown of Cobbtown, GA, three grandchildren, Ashleigh (Chris) Smith of Grays, SC, Emily (Daniel) Meador of Hardeeville, SC and Riley Brown of Ellabell, GA. Also surviving are four great-grandchildren, Reed, Kate, and Ryder Smith, of Grays, SC and Olivia Meador of Hardeeville, SC. Additional survivors include his brothers and sisters-in-laws, Ray (Betty) Brown of Cobbtown, GA and Raymond (Betty) Brown of Collins, GA, along with sisters and brother- in law, June Sikes of Cobbtown, GA and Jean (James) Crooms of Metter, Ga. He is also survived by sisters in law and brother-in-law, Pat (Dewey) Dekle and Clara Monroe of Metter, GA and Dot Grice of Portal, GA, along with a host of nieces and nephews who all loved their Uncle Jack. Preceding him in death are his parents, brothers-in law, Charles "Booney" Monroe and Larry Grice, nephew, Steve Monroe, and his mother-in-law and father-in-law, Ottis and Frances Grice.
Funeral services will be held Monday, November 28, 2022, at 3 p.m. at Kennedy Funeral Home, Cobbtown Chapel at 37196 GA-23, Cobbtown, GA 30420 with Reverend Jim Rogers officiating. Visitation with the family will be from 1 to 3 pm prior to the funeral.
Interment will be in Sunlight Cemetery.
Pallbearers will be nephews, Chad Dekle, Patrick Monroe, Allen Crooms, and Bobby Crooms and great grandsons, Reed Smith and Ryder Smith.
Honorary pallbearers will be the Collins High School Class of 1964.
Kennedy Funeral Homes, Cobbtown Chapel, of Cobbtown is in charge of the arrangements