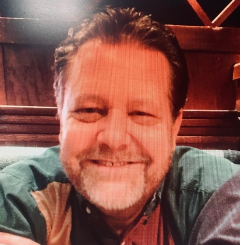 Huel L. Thain of Dalton, Georgia died Thursday, November 24, 2022.
Huel was born in Metter and was a son of Paul and Lila Thain.  He has lived in Dalton, Georgia since 1995.  In 2021, Huel retired from North Georgia EMC after twenty-six years of service. 
He loved playing piano and singing, telling jokes and loved to entertain. Huel loved deep conversations and he liked to have deep spiritual talks. He loved his children, his grandchildren, his brothers, and his mother and father. He was preceded in death by his father, Paul Thain.
Surviving are his son, Kyle Thain; his daughter and son-in-law, Caitlin and Garrett Kelley; his mother, Lila Thain; two brothers, Joel Thain (Karen) and Ruel Thain; his grandchildren, Lukas Cameron, Baylee Kelley, Paisleigh Kelley, and Pyper Kelley; and his nieces and nephews, Anja Thain, Calvin Thain, Devin Thain, Haley Thain, and Basil Thain.
The funeral service will be held Tuesday, November 29, at 3 o'clock in the afternoon at Kennedy Funeral Homes, Cobbtown Chapel. The family will receive friends from 2 until 3 o'clock in the afternoon at the funeral home on Tuesday.
Interment will be in Thain Cemetery in Metter.
Kennedy Funeral Homes is in charge of the arrangements.
To send flowers to the family, please visit our floral store.