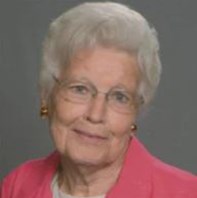 Florrie Evans Wells, 92, of Sylvania passed away surrounded by her loving family on November 19, 2022.

She was born in Newington to David E. and Annie Pitts Evans. She was a member of the First Baptist Church of Sylvania.

She is preceded in death by her parents, her husband, William Bowie Wells, and siblings, William E. Evans, Avis E. Burns, David P. Evans, Douglas H. Evans, Alton B. Evans, John F. Evans, Charles R. Evans, Martha E. Mixon, and infant brother, Walter Evans.

Survivors include two sons and daughters-in-law, William Elry and Pam M. Wells of Anderson, SC and Charles Davy and Mary Evelyn D. Wells of Sylvania; a sister, Anna Marie Stewart, grandchildren, Seth and Marcia Wells, Eve W. and Jake Barnes, Timothy Wells, Charles C. and Erin Wells, and Katheryn Wells; great-grandchildren, Nate Wells, Kurstin Barnes, Jackson Wells, and Henry Wells, many nieces and nephews.

Graveside services will be held on Monday, November 21, 2022 at 2:00pm at the Screven County Memorial Cemetery with Rev. Dr. Charlie Cooper, Rev. Dorsia Atkinson, and Rev. Clint Sheppard officiating. The family will receive friends following the service at the cemetery.

Pallbearers will be Charles Wells, Henry Wells, Jackson Wells, Seth Wells, Nate Wells, Jake Barnes, and Timothy Wells.

Honorary pallbearers will be Eva Fulcher, Rhonda Cook, Mary Williams, Pancenia Williams, Colleen Ruhlen, Louise Pitts, Andy Pitts, David and Susan Crews, Alton Crews, and Gary and Kay Crews.

Memorial contributions may be made at one's choice.
Friends may sign the online register book at www.joineranderson.com
Joiner Anderson Funeral Home Screven Chapel is in charge of all arrangements.
To send flowers or a memorial gift to the family of Mrs. Florrie Evans Wells please visit our Sympathy Store.