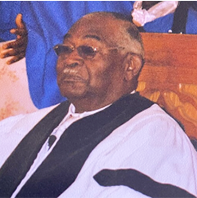 With sadness and compassion, Craig R. Tremble Funeral Homes, Inc., Statesboro Chapel, along with the Family, announce the passing of Bishop John Cleveland Newkirt, Sr.
Bishop John Cleveland Newkirt, Sr., age 92, of Garfield, GA., passed peacefully away on Tuesday, January 17, 2023 at East Georgia Regional Medical Center after an extended illness.
He was an Emmanuel County native having resided in Brooklyn, NY., Mount Vernon, NY, Cleveland, OH., and Washington D.C. for years at a time.
He received his early education in Emanuel and Jenkins counties school system. He received his Certificate in Ministry at Tomlinson College in Cleveland, TN. and his Doctor of Divinity at Maryland Theological Seminary and College in Baltimore Maryland.
Bishop Newkirt served on the staff of Craig R. Tremble Funeral Home as a Chaplain.
He served as the Pastor of Church of God of Prophecy in Washington D.C. for 11 years and Pastor of Johnson Grove Missionary Baptist Church of Portal, GA. for 23 years. He served faithfully for the Lord as a National Evangelist.
Bishop Newkirt was preceded in death by his son, Edwin C. Newkirt, son-in- law, Joe Rhodes, brother-in-law, Roosevelt Callaway, and sister-in-law, Luella Newkirt.
He is survived by his wife of 73 years, Ida Newkirt of Garfield, GA; children, John Cleveland (Darcella) Newkirt, Jr. of Dacula, GA. and Joyce Rhodes of Garfield, GA.; sisters, Bertha M. Callaway of Ellenwood, GA., Roberta Graham of Dayton, OH.,Evelyn (David) Headings of Battle Creek, MI., and Marchia (Ras) Sartor of Litchfield Park, AZ; brothers, Willie Rodgers of Decatur, GA., and William Jackson (Ethel) Newkirt of Snellville, GA. A host of other relatives and friends.
Viewing will be held on Thursday, January 26, 2023 from 6:00p.m. - 7:00p.m. in the Statesboro Chapel of Craig R. Tremble Funeral Homes, Inc.
Celebration of life service will be held on Friday, January 27, 2023 at 11:00a.m. at Statesboro Mission Outreach Ministries, 20597 US-301, Statesboro, GA 30461. Dr. Micheal Woods, Eulogist and Bishop Virgil Badie, Pastor/Officiating.
We will adhere to CDC guidelines.
Friends may sign the online register book at craigrtremblefuneralhome.com.
Celebration of life service will be live-streamed via Facebook.