Losing a loved one may be one of the most difficult things we ever go through in life. Brooklet's Martha Weston has found a way to make remembering them a little easier.
Martha is known for her sewing talents in making bears, pillow covers and quilts she creates to help loved ones remember the ones they have lost.
"I take memories from our lives and make special keepsakes," said Martha Weston.
The memory bears, memory pillow covers and memory quilts are made using clothing from your loved one. In the picture above, the bears displayed on her sofa and in her lap are ones she made for me and my family members from my Grandmother, Betty Grice's, clothing who died last September.
Martha takes the clothing and learns a little about the person who has died and each family member's story with the loved one, including what they called them. The bear she made for me has Mama on the heart, which is what I called my Grandmother. The fabric is made from one of my favorite coats Mama wore.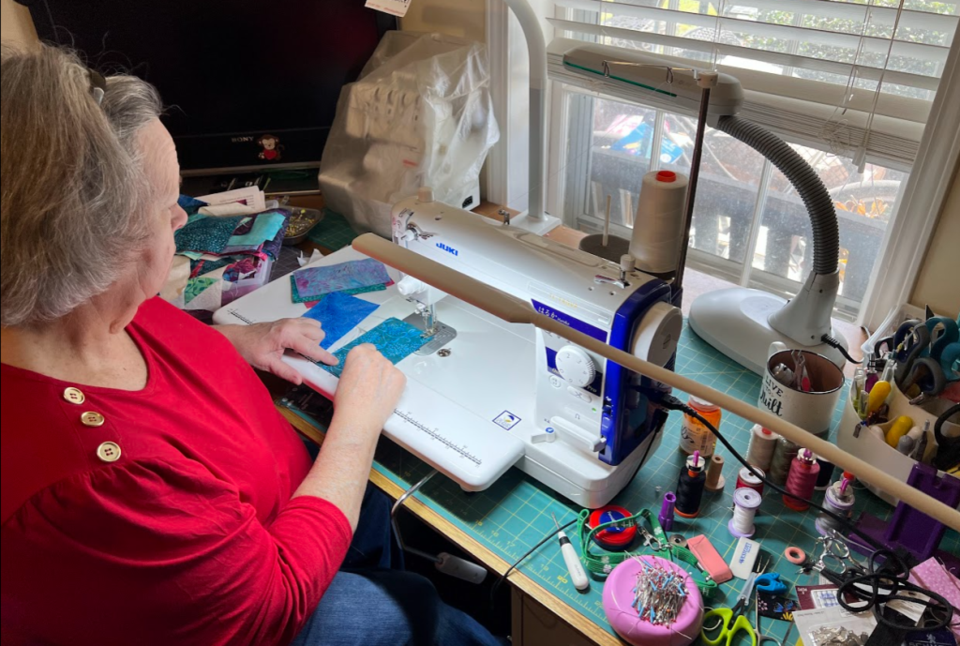 Martha uses her creative freedom to make each bear unique. She even incorporates the buttons from the clothing.
My wife Lori first learned about Martha's bears a few years ago when one of our friends, Terry Gerrald died. His widow, Nancy Gerrald's nickname for Terry was "Terry Bear." It seemed fitting to have Martha make her and family members "Terry Bears."
"The bears are a wonderful expression of love passed on from the deceased to the living," said Martha. "The best part is when they pick up the bears. It is a very emotional moment for us. This expression of raw emotion is how I know that I have succeeded in creating something very special for the loved ones."
Martha's Journey
Martha learned to sew initially from her grandmother, Alice Sowell, when she was a little girl. She began quilting in 1984. Growing up in the church she met Eula Mae Dykes who worked in the Singer Sewing Machine and Repair Shop on Broughton Street in Savannah. Singer sponsored a junior sewing contest for children and Eula Mae invited Martha to participate. She spent two summers improving her sewing talents. She won the contest.
Martha then honed her skills at Georgia Southern as a home economics major and worked 30 years as a home economists before retiring to Brooklet.
"Sewing and quilting has always been a hobby, but never a profession," said Martha. "It truly is a labor of love for me helping preserve the crafts of sewing and quilting while simultaneously preserving important memories.
How to reach Martha
You can reach Martha and view more of her work through her Facebook page Martha Weston Designs, by email at marthawestondesigns@gmail.com or by phone at 912-225-8660.