The Statesboro City Council met for their regular bi-monthly meeting at 5:30 p.m. on Tuesday, September 20th. The council approved three new developments in the city of Statesboro that will add 536 new homes into the city. They include 396 new townhouses and 140 single family homes. More information and details on these new homes are included in the story below.
We begin with the first order of business, which is the approval of the consent agenda and then move through all of the business covered by council.
Consent Agenda
APPROVED: Minutes
a) 09-06-2022 Council Minutes
b) 09-06-2022 Executive Session Minutes
City Business
DENIED: Motion to award a contract for branding and marketing services for the City of Statesboro to North Star in an amount not to exceed $79,000.00 plus expenses, which are not to exceed $5,000.00.
The City of Statesboro issued a RFQ for branding and marketing services. This opportunity was advertised on several forms of media per our procurement ordinance. The purpose of this RFQ was to select a professional experienced firm to provide City logos, seals, and signage, as well as marketing strategies to promote City of Statesboro in a positive, efficient and professional manner. The complete scope of the project will be determined once a firm is selected. There were nine (9) firms that submitted a response to our RFQ and four (4) were selected by an evaluation committee to offer formal presentations. These firms were evaluated on qualifications, proposed project team, related project experience and references. After the initial evaluation stage and the ranking established after the formal presentations of the four (4) firms, North Star was selected for contract recommendation for this branding and marketing services contract. North Star offered the best projected product and service for the City of Statesboro. Since this was a RFQ process, firms did not submit pricing at the time of submittal. Once the firms were ranked by the evaluation committee, the top firm was asked to submit a contract cost. This amount was negotiated per the scope of services desired. This negotiated amount is listed in the recommendation above. On July 19th Council consideration of this item was tabled to the second meeting in September.
APPROVED: Public Hearing and Consideration of a Motion to Approve RZ 22-08-01: Simcoe Investment Group, LLC requests a Zoning Map Amendment from the R-20 (Single Family Residential) zoning district to the R-2 (Townhouse Dwelling) zoning district in order to construct a 151 unit townhome development on 26.3 acres of property on Jones Mill Road. There will be six units per building maximum. Each townhouse will have a garage with three parking spaces per unit.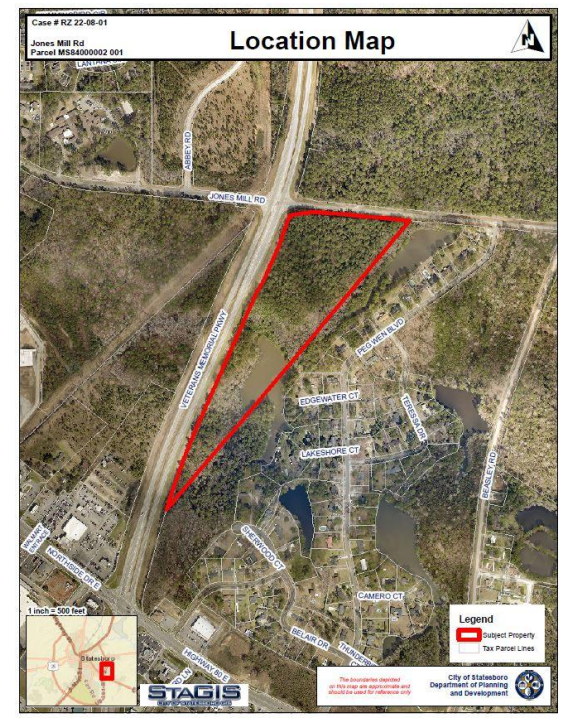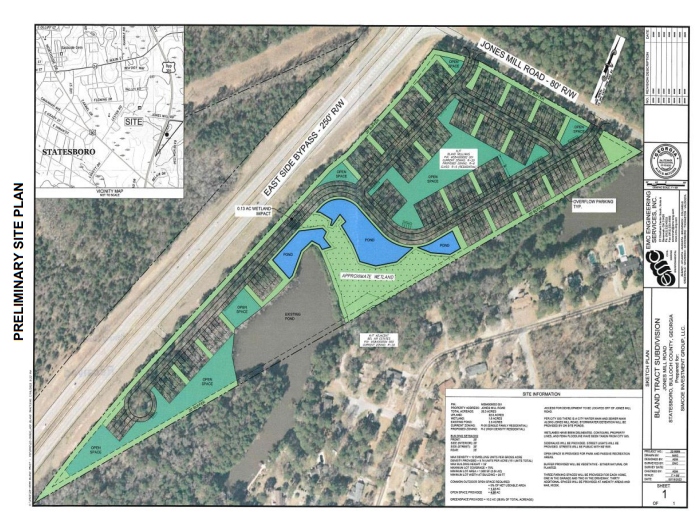 APPROVED: Public Hearing and Consideration of a Motion to Approve SE 22-08-02: Cody Ward requests a special exception from Article VIII, Section 801 of the Statesboro Zoning Ordinance in order to locate a Men's Health Clinic on a 0.06 acre parcel in the multitenant building located at 22 South Main Street.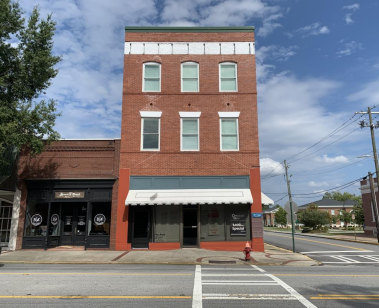 APPROVED: Public Hearing and Consideration of a Motion to Approve RZ 22-08-03: Horizon Home Builders requests a Zoning Map Amendment from the R-4/HOC (High-Density Residential/Highway Oriented Commercial) to the R-2 (Townhouse Residential) zoning district for the development of a 245 unit townhome development on a portion of a 42.87 acre property at 538 East Main Street.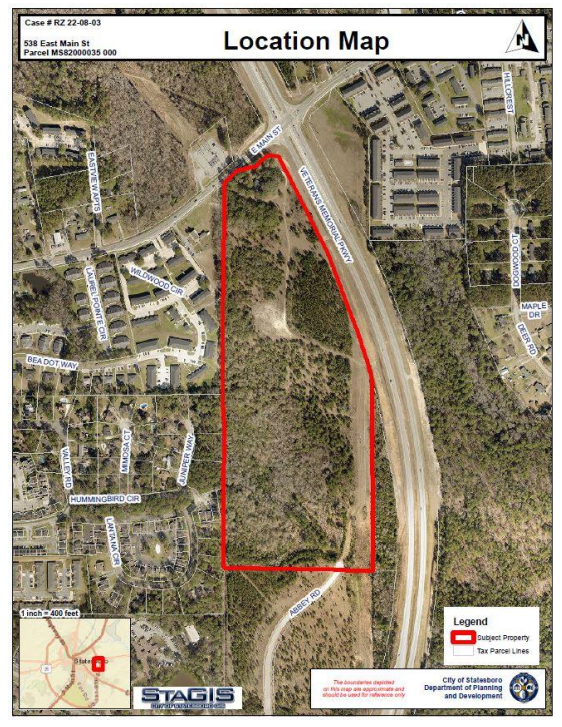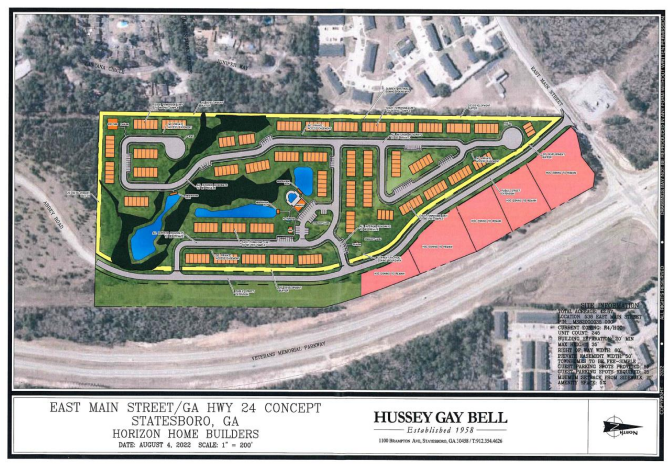 APPROVED: Public Hearing and Consideration of a Motion to Approve RZ 22-08-04: L&S
Acquisitions requests a Zoning Map Amendment from the R8 and R10 (Single-Family Residential) zoning district to the PUD (Planned Unit Development) zoning district in order to develop a 140 unit single-family detached subdivision on 34.88 acres of property located at 1263 S&S Railroad Bed Road.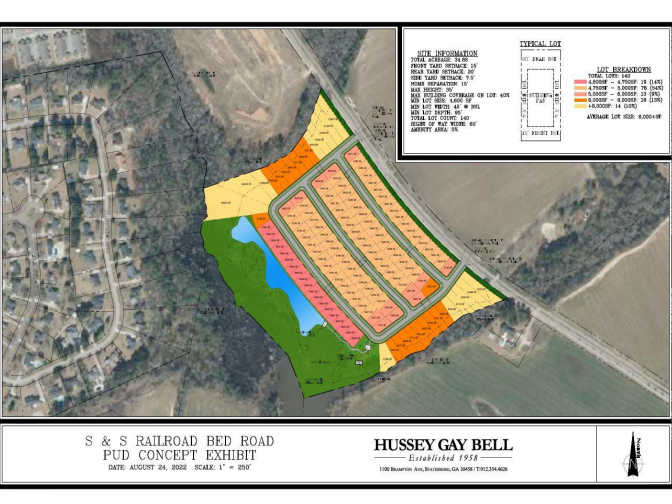 APPROVED: Second reading and Consideration of a motion to approve Ordinance 2022-04: An Ordinance amending Section 2-55 of the Statesboro Code of Ordinances regarding the appointment and terms of members of the One Boro Commission.
Mayor and Council established One Boro Commission on November 17, 2020 with all members serving two year terms. Proposed amendment, directed for drafting by Mayor and Council at the regular meeting held on August 16, 2022, would institute staggered terms to enhance continuity of Commission membership. Council approved First Reading on September 6 with 4-0 vote.
APPROVED: Consideration of a motion to approve Resolution 2022 - 34: A Resolution authorizing the waiver of any payment in lieu of taxes (PILOT) by the Statesboro Housing Authority to the City of Statesboro for the 2021 tax year in the amount of $29,488.83.
This is a reoccurring event and has been waived for years by the Mayor and City
Council. Budget Impact: Taxes would be waived in the amount of $29,488.83 for the 2021 tax year on Butler Homes, Groover Homes, Cone Homes and Braswell Homes. These low-income housing developments are managed by the Statesboro Housing Authority.
APPROVED: Consideration of a motion to approve Resolution 2022-35: A Resolution approving a grant application of the 2022 LGRMS Firefighter Cancer Awareness Incentive Program.
LGRMS Risk Control, along with ACCG and GMA, have established a $5,000 reimbursement grant for Fire Departments in order to purchase equipment to reduce firefighter cancer risks. To be eligible, the Statesboro Fire Department has completed all of the necessary requirements as set forth in the program guidance. There are no matching funds obligation and if awarded, the money will be utilized to further our Health & Safety Program initiatives.
APPROVED: Consideration of a motion to approve Resolution 2022-36: A Resolution to accept the 2021 AFG award for the Statesboro Fire Department Physician Program in the amount of $31,818.18 with a 10% match of $3181.82 for a project total of $35,000.00.
In January 2021 the Statesboro Fire Department submitted an application for the 2021 AFG. The total amount requested for this application was $207,800.00 to fund the following projects.
1) Continuation of the Fire Department Physician Program.
• $35,000.00 project request.
2) Firefighter Personal Protective Equipment (Turnout Gear).
• $3,500.00 per set, for 12 full sets.
• $42,000.00 project request.
3) Self-Contained Breathing Apparatus (Airpacks)
• $6,000 per pack, $2,000 per bottle, $300 per mask
12 packs, 24 bottles, and 36 masks.
• $130,800.00 project request.
The Statesboro Fire Department has been awarded $35,000 of the $207,800.00 requested. The Statesboro Fire Department was only awarded funding for one (1) of the three (3) projects submitted with this application (Continuation of the Fire Department Physician Program). The Fire Department Physician Program has proven to be extremely beneficial to the Fire Department and its members and acceptance of this grant will help ensure the program remains in place.
APPROVED: Consideration of a motion to approve Resolution 2022 - 37: A Resolution to adopt the first amendment to the Fiscal Year 2023 budget for each fund of the City of Statesboro, Georgia, appropriating the amounts shown in each budget as expenditures/expenses, adopting the several items of revenue anticipations, and prohibiting expenditures or expenses from exceeding the actual funding appropriated.
APPROVED: Consideration to enter into an intergovernmental agreement between the City of Statesboro and the Georgia Department of Human Services, Division of Family and Children Services relating to the Low-Income Household Water Assistance Program (LIHWAP). This agreement is for the provision of federal funds to be used as part of an overall emergency effort to prevent, prepare for, and respond to the COVID-19 pandemic with public health focus of ensuring that eligible low-income households have access to drinking water and wastewater services.
Other Business from City Council
Council Lady Shari Barr reminded the council about Greenfest, which is a week from Saturday. Greenfest provides tips and ideas on how we can live as a greener community. The festival will be held in downtown Statesboro from 10 am to 1 pm on Saturday, October 1.
She also extended an invitation from Alex Smith of Action Pact, a senior adult program in Statesboro, for members of council to visit the program at 11 am prior to the first meeting in October. Smith invited the council to have lunch and meet constituents of the senior program.
APPROVED: Council Lady Venus Mack made a motion to ask city attorney Cain Smith to draft language to establish a new commission between local business owners and the council.
Councilman Phil Boyum recommended that an upcoming joint transportation study should be paid off the top of funds using T-SPLOST. In addition, he recommended that the city should pay joint cost based on revenue percentage that Bulloch County allowed as Statesboro's revenue share, which is 42%, instead of paying 50%, which the county requested. He also recommended pulling stakeholders together and beginning discussions for the next SPLOST negotiations.
Mayor Jonathan McCollar established a Mayoral ad hoc committee creating the Healthy Boro Committee with Council Lady Shari Barr serving as council liaison.
The committee will include:
Melissa Gayan
Tracy Linderholm
Michele Martin
Karen Naufel
Stacy Smallwood
Marieke van Willigan
The Blue Room requested review of the permit to exceed noise ordinances. They have three outdoor concerts coming up that will exceed the current maximum of three permits in a six month period allowed in the current ordinance. The council asked City Attorney Cain Smith to bring back recommendations to the council at the next meeting.
APPROVED: A motion was made to appoint to the One Boro Commission for one year term the following:
Janice Cawthorn
Nandi Marshall
Julie Chance
Johnny Gamble
Stacey Smallwood
APPROVED: A motion was made to appoint to the One Boro Commission for two year term the following:
Matt Gerig
Lora Cooper
Keith Wilkey
Lewis Crane
Pam Quincey
Sandra Ofoshuemaa
City Managers Comments
City Manager Charles Penny made the council aware of a grant opportunity for the Jiann-Ping Hsu College of Public Health to assess the atmospheric environment in the 20 city-owned buildings. They will apply for the grant. The City would enter a MOU with GS University to allow them to apply for this grant.
Public Comments (General)
Bob Brannen, an 84 year old property owner in Statesboro who is the manager and part owner of Brannen Land and Property, brought a bill for $4,900 for storm drain fill before the council. Mr. Brannen explained to council that he feels that he is being discriminated against for having such a large bill. He said that all three of his warehouses are built on a hill, therefore no water runs off his property in the the city storm water system. It all runs into a retaining pond. He has cut water off in two of the three warehouses. Because he has peanuts stored in the third warehouse, he has to keep water on there.
Mr. Brannen requested a change in the ordinance to make an exception for property like his. He also pointed out that he has a natural gas depot on his land that he has never charged the city for. He is considering sending the city a bill for use of this land if they can't come to some sort of agreement on his bill. The Mayor asked the city manager to have staff meet with Mr. Brannen and review his concern.
The council cleared the chamber to enter into Executive Session to discuss "Personnel Matters," "Real Estate," and/or "Potential Litigation" in accordance with O.C.G.A 50-14-3(b). The council took no action after returning from Exective Session.
View the full agenda with attachments
Watch the full City Council meeting below: