Chris Norberg, Community Relations Manager for Publix Supermarkets, confirmed today that Watkins, the developer of the shopping center which Publix has signed a lease for Statesboro store space, will hold a groundbreaking for the development on May 26th. The specific time was not confirmed and will be announced at a later date. The Statesboro Publix will be located at the corner of Veterans Memorial Parkway and Old Register Road.
Norberg could not release specifics at this time including renderings or store amenities, he did confirm that the tentative opening date is scheduled for the end of 2022. This is the same timeline Grice Connect announced in a story on October 10, 2019.
Starts, Stops, Near Misses
The re-entry of Publix into the Statesboro Market after closing the Statesboro location 22 years ago, was first announced in a "groundbreaking" on March 27, 2019. The groundbreaking was also for a soccer stadium to be opened in 2020. As of today, there has been no building permits issued for any development on this track of land.
No Publix or Watkins Representatives at 2019 "Groundbreaking"
At the March 27th "groundbreaking" there were no representatives of Publix or Watkins, the developer of the shopping center, in attendance.
In addition at the time of the 2019 "groundbreaking" where Publix was announced, Dwain Stephens, Media and Community Relations Manager, Publix Super Markets confirmed there was not signed contract at that time for Publix to return.
$6.65 Million of Tax Funded Infrastructure Improvements
Construction did however begin soon after on $6.65 million dollars in tax funded infrastructure improvements. $4.75 million will be paid back through a Tax Allocation District (TAD) with tax growth from the development of the land.
Georgia Southern has announced plans to build a $56 million Jack and Ruth Ann Hill Convocation Center on the South Campus which is east of this development. The infrastructure will also give additional access to the south campus and the new Convocation Center which will replace Hanner. The hope is to have this building completed by 2023.
Publix Confirms Lease Signed 7 Months After "Groundbreaking"
On October 10, 2019 Publix did confirm a lease had been signed, nearly seven months after the announcement and "groundbreaking." Grice Connect shared this announcement along with the confirmation of a projected opening in 2022 in an October story. This was the first story Grice Connect published that included the Publix announcement.
It is our understanding as of the time this story is written, that Watkins will close on the property on Friday, May 14 and then proceed with a groundbreaking confirmed today by Publix on May 26.
Eagles Corner Shopping Center
Watkins is an Atlanta based developer with strong ties to Georgia Southern University and Statesboro. At one point Bill Freemen, the former President of Watkins was one of the largest individual contributors and supporters of GS.
The have an outstanding reputation as a developer of shopping centers and have developed stores for Publix for decades.
According to their marketing website for the Statesboro development which they have named Eagles Corner Shopping Center, they show two tenants for the 66,000 square foot strip center.
Publix is the anchor with 48,387 square feet leased
Grand Nail Lounge has secured 3,500 square feet leased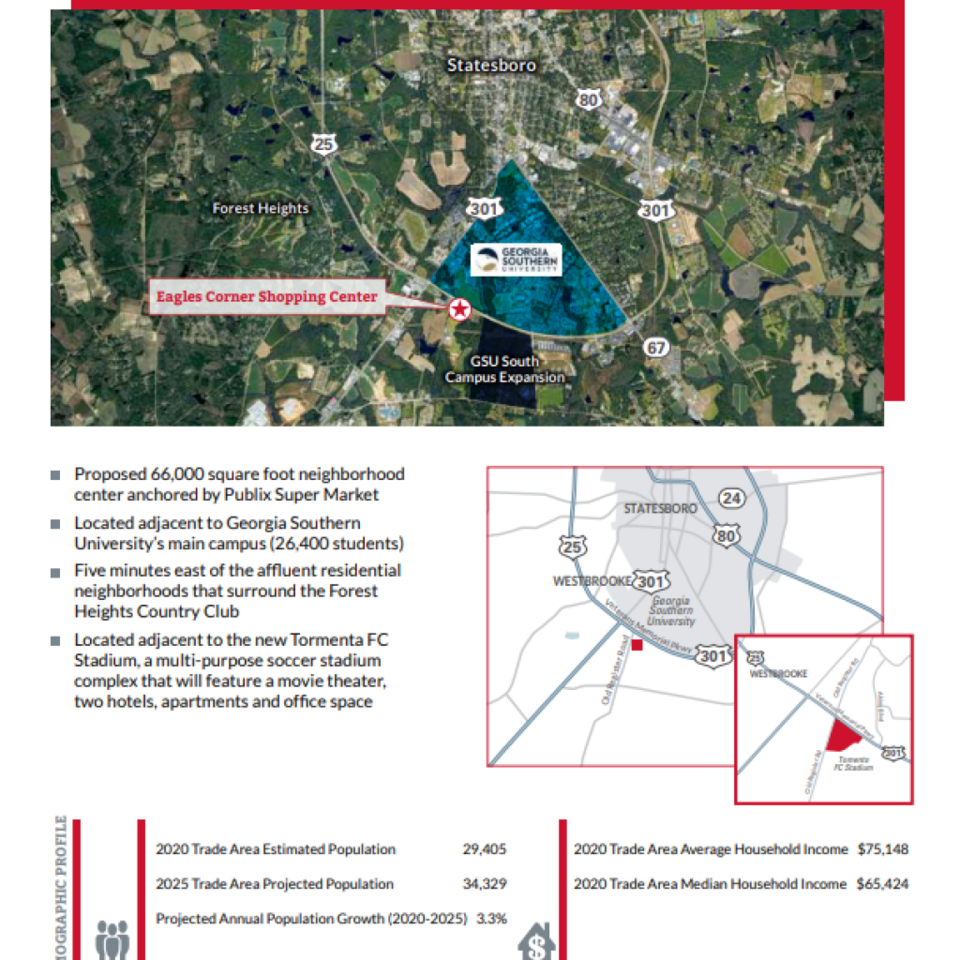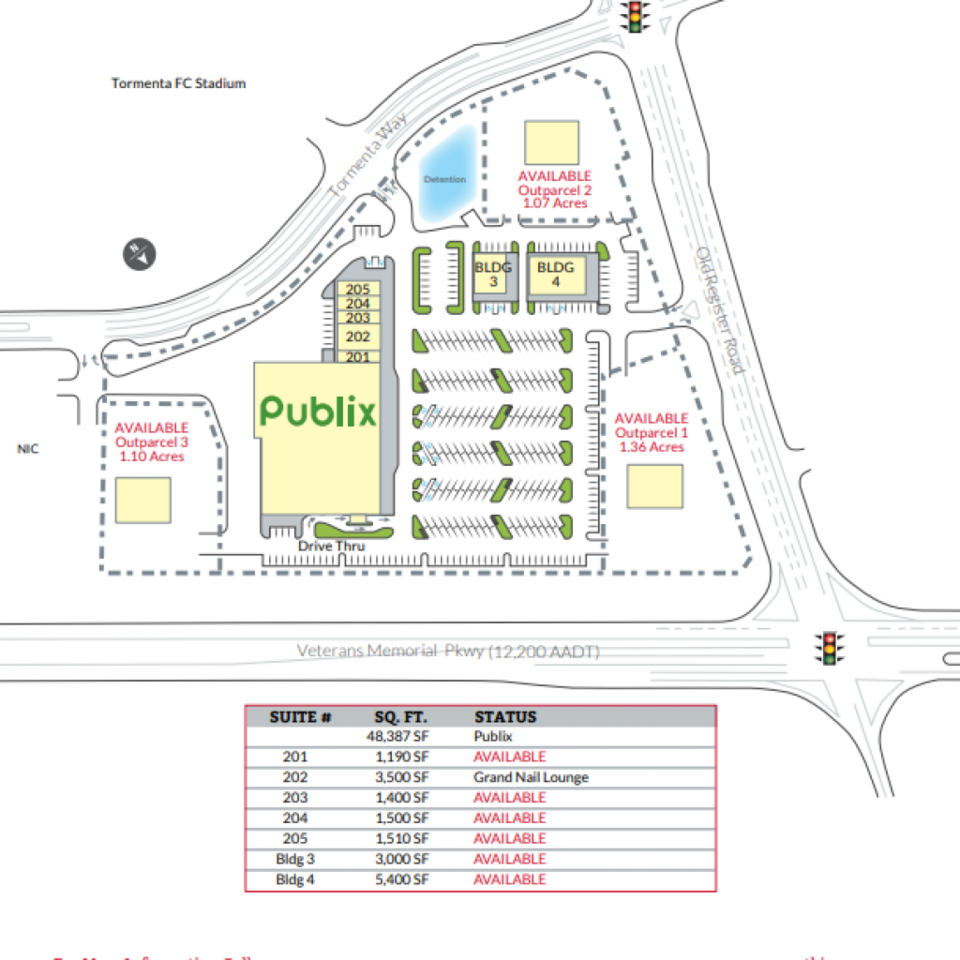 Publix is rapidly growing as a company. In 2020 the opened 39 stores.
Publix ranks among Fortune's 100 Best Companies and Best Big Companies to Work For
For the 24th consecutive year, Publix has been named one of Fortune's 100 Best Companies to Work For, ranking No. 42. The company is one of only five to have made the list every year since its inception in 1998.
For the third consecutive year, the company has been recognized as one of Fortune's Best Big Companies to Work For, ranking No. 11. This list debuted in 2019 and features only companies with more than 100,000 employees.
"For over 90 years, we've remained focused on serving our customers and communities and taking care of each other," said Publix CEO Todd Jones. "Over the past year, our country has faced many challenges and much uncertainty, making the role of the supermarket more essential than ever. Thanks to the hard work and dedication of our associates, we're pleased to receive this prestigious recognition."