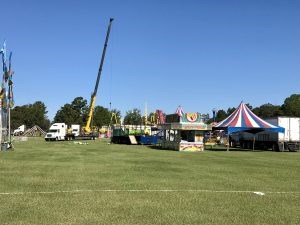 The Kiwanis Fair setup has begun. They are busy setting up rides, checking in local items to be judged, setting up displays and getting the grounds ready.

Fair Ride Tickets Half Off Today
Part of the annual tradition locals are familiar with is the purchase of advance rode tickets.
The Kiwanis sell $20 of tickets for $10. That is 20 tickets for half price. On Monday at the fair 20 tickets will be $25.
You can purchase the discounted tickets Saturday until 4 pm and Sunday from 2 to 4 pm at the Kiwanis Fair Grounds in Fair Road.