Easily recognized, Pittman Park, a United Methodist Church, is frequently involved with the Statesboro community by serving as volunteers at many events, such as local soup kitchens, and even hosting a few of their own, namely their Trunk or Treat. Recently, however, the church has been striving to serve its congregation and the local community in a whole new way: through prioritizing inclusivity and evaluating the accessibility and comfort of their church's environment for individuals living with disabilities.
While the church building itself is already accessible in many aspects, featuring ease of entry and adjustable row seating for those in wheelchairs, leadership recognized it still had room to grow and desired to improve. This desire to better serve their congregation is the beginning of a moving story between two friends, a children's pastor with a heart for change and a dedicated mother with a vision for her family, both of who overcame individual anxieties to have a difficult yet powerful conversation, sparking significant change within the walls of Pittman Park UMC.
A mother's request
In the summer of 2022, Michele Martin and her family were finally beginning to feel more comfortable reengaging with the community post-COVID. For a few weeks, Michele's family had attempted to visit Pittman Park UMC with their son, then 3, who lives with autism. Despite their hopes, the visits were short-lived, and while Michele was deeply desiring to get reconnected with her church, she had strong concerns about returning.
"I kept not wanting to deal with it until I got honest with myself. As much as I missed services, they just weren't an inclusive space for those with autism," Michele expressed.
Because of her own personal experiences and the testimony of others, Michele reached out to church leadership members and expressed a desire to meet in person to discuss her family's situation. Head pastor Rev. Jonathan Smith and children's director Megan Hopkins were both empathetic, receptive to change, and expressed genuine desires to meet the family's needs. The group began to gameplan, hashing out the different areas that could be more inclusive when compared to the areas where Michele's son felt safe and comfortable. From there, Michele introduced Pittman Park UMC to the concept of social stories.
Social stories, stories about social experiences, typically involve a variety of pictures, and ideally, the story will cover all of the different senses. The guide discusses what one hears, sees, and touches, and who one might speak or interact with. Social stories can serve as an extremely important resource because sensory concerns are common for children with autism, and if they have an opportunity to go over a social story at home, it may help create an air of comfort with the child and their environment.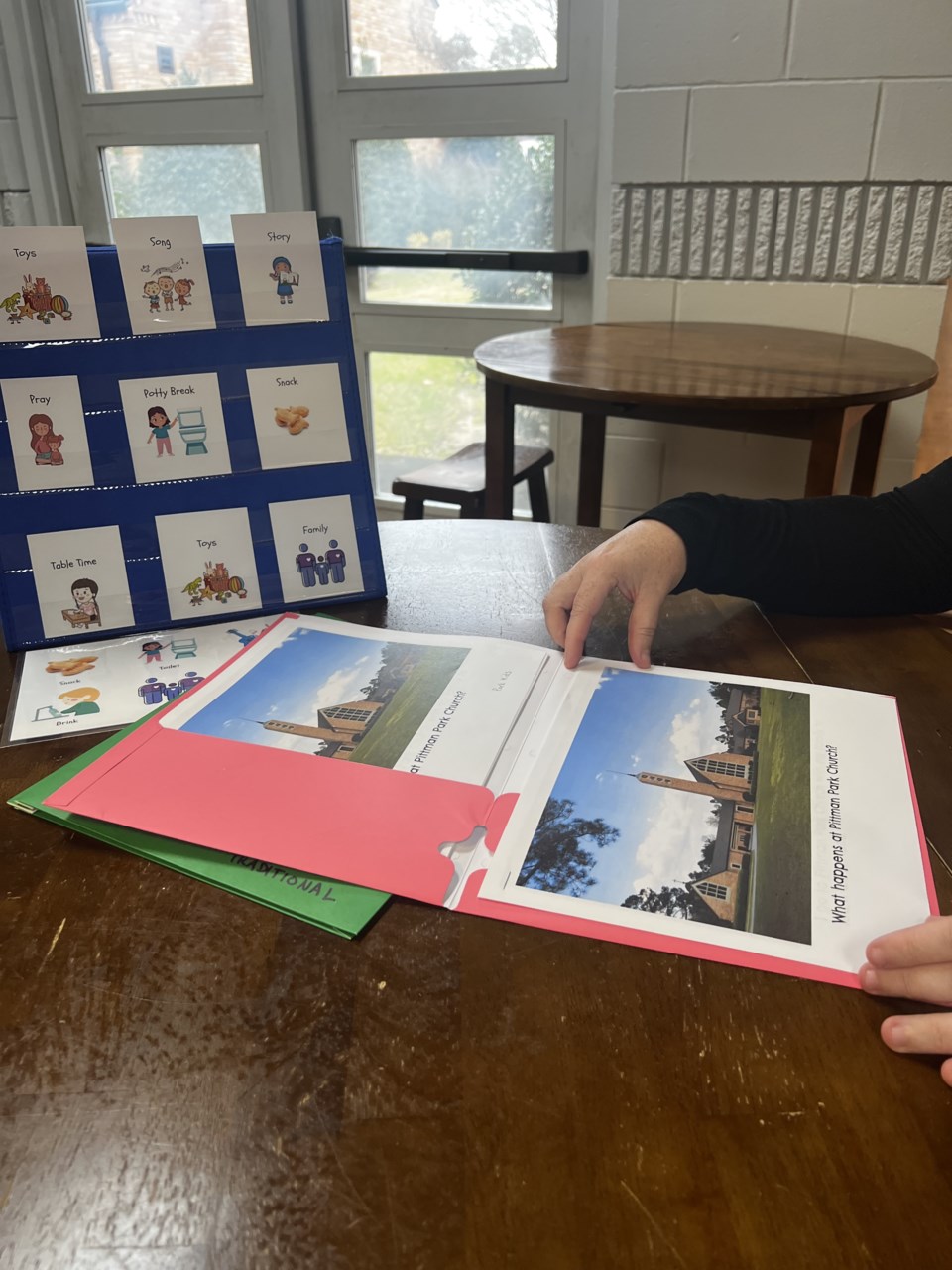 "We need people who will actually do the work alongside us"
The Pittman Park UMC leadership's desire to bridge the gap with the Martin family was further exemplified by the actions of the children's director, Megan, who decided to attend the 2022 Together Conference: Pursue, which was held on Saturday, August 20, 2022, at Church on Main in Snellville, Georgia.
Michele recalled thinking, "I wish someone would go to this conference, but I can't," she continued, "I had less of a fear that they wouldn't be receptive to needing change, but more a fear that they would say, 'Well, you just let us know what you need, and we'll support whatever you want to do.' But we need people who desire to get involved. We need people who will actually do the work alongside us."
Megan described her experience at the conference as one that was equally educational and empowering. She revealed that before the conference, she sometimes had an apprehensive mindset about how to interact with children with disabilities.
"There are different cues and behavioral signals, and sometimes I would worry that I didn't know how to properly respond or meet the needs of children with different ways of seeing the world," she said.
But when recalling her experience at the conference, Megan smiled, "I learned a lot about how to understand them better."
Responding immediately with compassion, Michele added, "Unless you have your own friend or personal experience to rely on, it's really hard to put yourself in that space. And then, you have to go based on your education, and we fall back into what is typically said or typically known about special needs populations which may or may not be accurate. So, the fear is very common and very natural because you don't want to offend somebody. You don't want to overstep by doing too much– they're individuals and they want to be independent and have their own choices, and so you know, Megan had to navigate something that can be a really difficult balance."
Megan shared that her heart for attending the conference was also rooted in a desire to overcome personal anxieties and to become more open to having difficult conversations about where and how the church can improve. She expressed gratitude for opportunities such as the conference that provide learning experiences, free resources, and community to support her growth as a minister.
"I think it's important for the church to be a place where everyone can belong and can thrive. It's great to have parents that will partner and help, like Michele, because I've learned that oftentimes, parents want to give us feedback, but we have to be willing to create a space where they feel comfortable having those conversations," Megan said.
Another way the church took steps toward being more inclusive was through the recent addition of a unique seating space which includes an alligator-shaped busy board in the back of the church's fellowship hall. In addition to the busy board, this space includes a colorful and spacious rug with multiple toys, like fidget spinners, that promote fine motor movements and are perfect for those with sensory needs.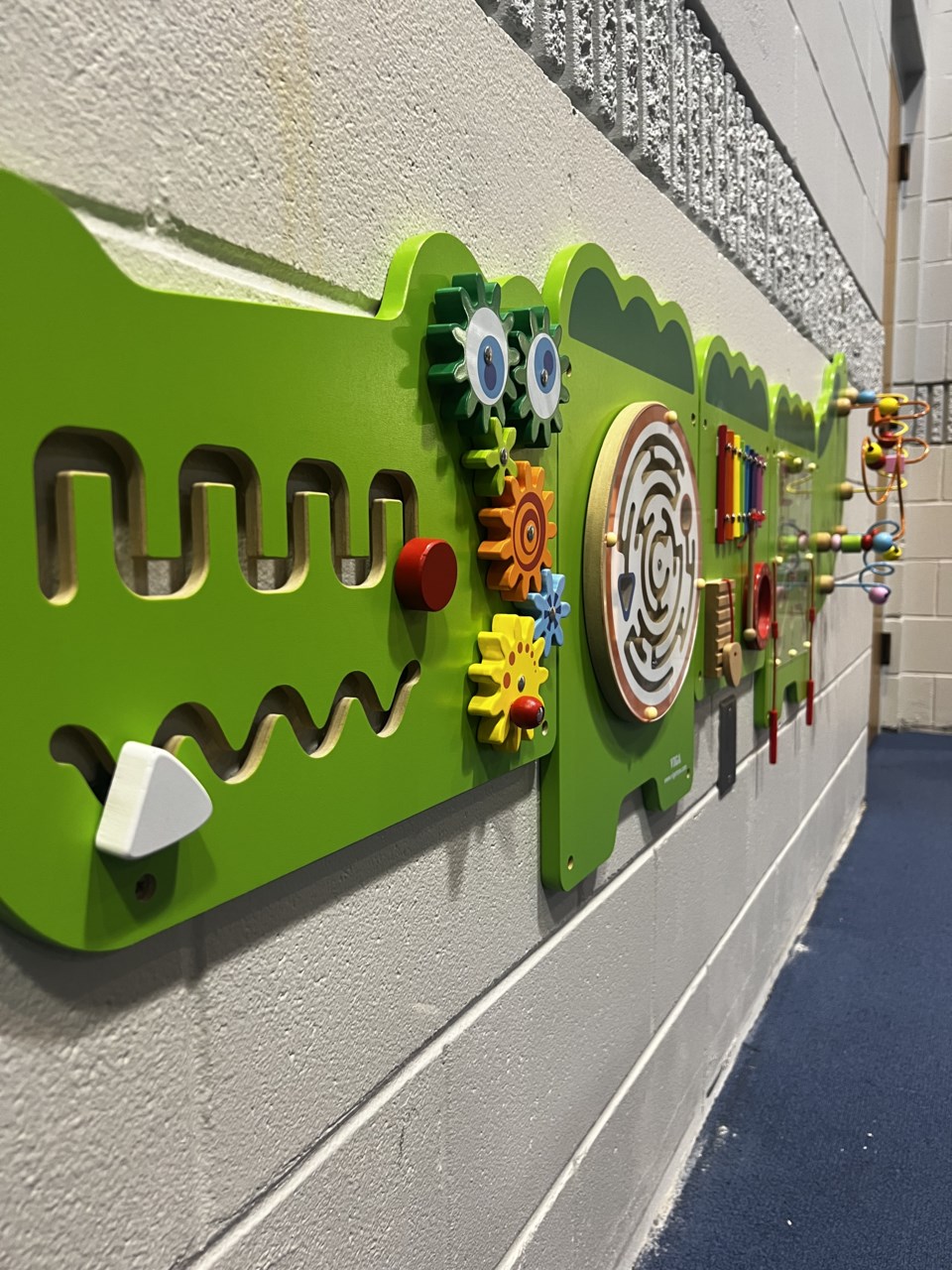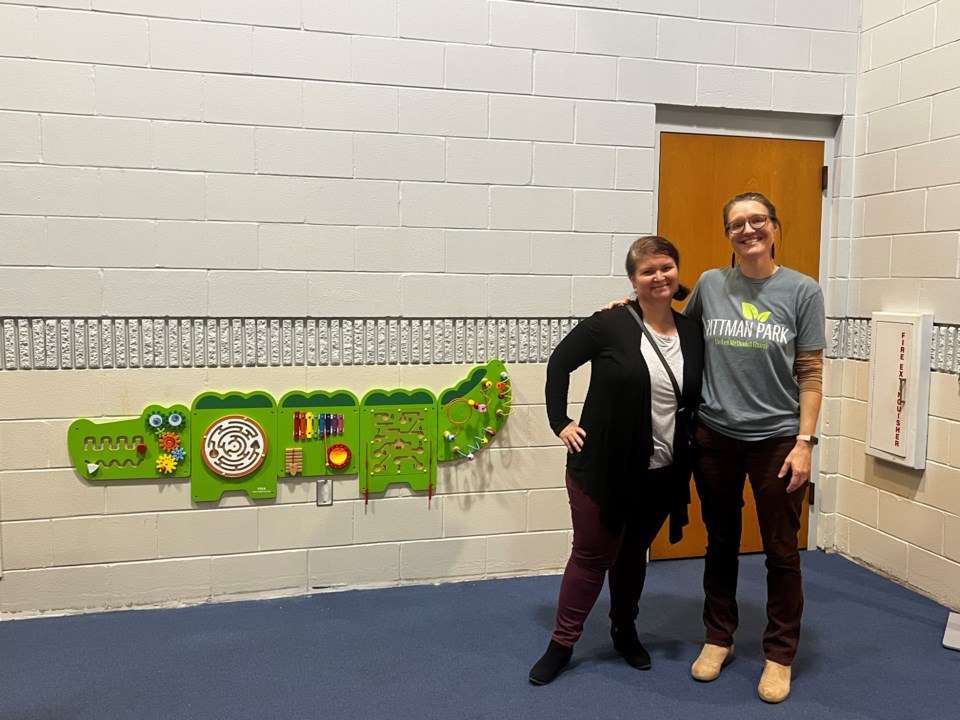 Better meeting the needs of all at church
The church has also recently included a place in its service bulletin that inquires about the accommodation needs of its congregation and visitors. Covering topics such as hearing and visual impairments, bathroom needs, wheelchair accessibility, and more, the church leadership is hopeful that taking steps like this will open the door for more honest and authentic conversations about how they can better meet the needs of their church.
Megan stressed that it's important that they represent the mission of their church well. "As leaders, it's especially important that we're receptive, understanding, and taking action. It trickles down, and it impacts the overall environment of the church. How we respond to conversations, such as the ones between myself and Michele, truly makes a difference."
Megan's desire to take action was especially significant to Michele, and she shared passionately that, "Many times, we rely on hearing from the families what their needs are, and we make assumptions that they'll simply just ask us. Parents that are caregivers of a child with unique needs, they will not ask. They're exhausted. They're tired. Tired of explaining. Tired of asking. Tired of advocating. Tired of people not knowing.
The things we have to overcome and think about on a daily basis, almost minute by minute, it's incredibly taxing. So if they could just come somewhere and not have to ask, that's all they want.
And people that know me, they know it's not typical of me to sit back and not do work like this for myself, but I was adamant that I continued to articulate, this is not my work to do. As much as I want to, I'm already exhausted. I wanted to be served. I deserved to be. It was my time. My child's time. And that was important to me."
Having difficult conversations, extending grace, and seeking change
As they exchanged visions for the future of the Pittman Park UMC, the two seemed excited and hopeful for coming opportunities to continue their growth and become more inclusive. They shared ideas for upcoming church events and ways they plan to make them a more enjoyable experience for all. To Megan and Michele, their story represents that ministers, that people in general, are willing to learn; and that through having difficult conversations, extending grace, and seeking change, people can open the door to incredible opportunity.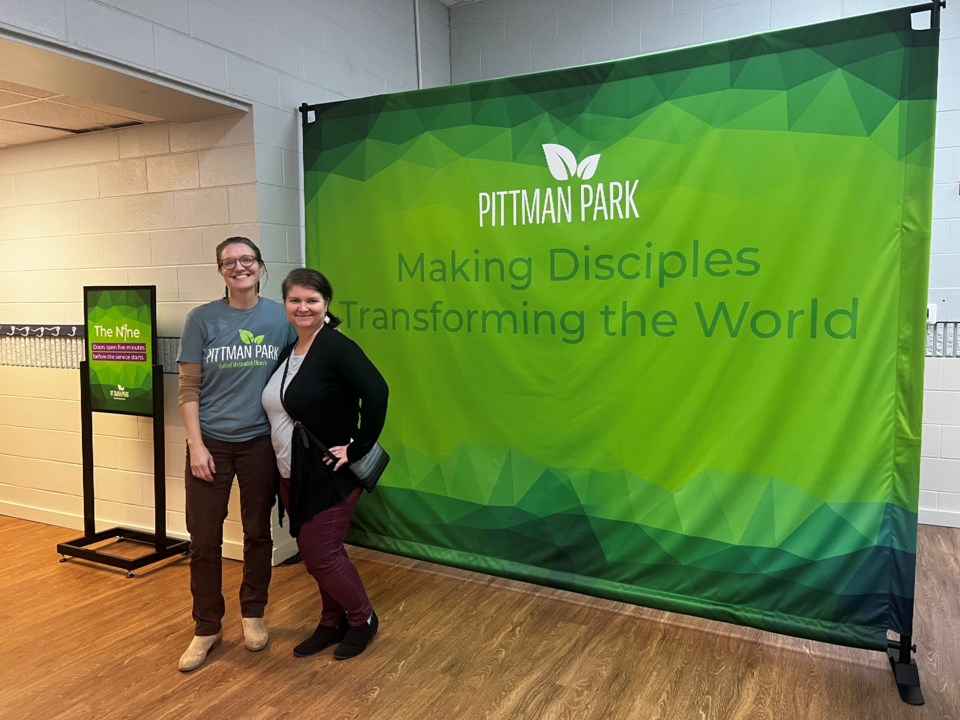 Megan and Michele both emphasize the importance of the church seeing their children's director taking the lead in creating a space where all can feel welcome and included, and that they look forward to seeing more families of different backgrounds, disabilities, and experiences honored through this, with both women sharing they believe that this mission goes beyond both children's ministry and the autism community.
When asked if they had any final thoughts they'd like to share, Megan expressed, "To me, this is rooted in offering love and support to people of all ages, of all backgrounds, of all needs."