Nick Propps, President of Statesboro Properties has confirmed his firm has sold a 7.24 acre track fronting Highway 80/Northside Drive East. Propps can't confirm what businesses the new owners will be developing on the land. He agreed there is lots of speculation and internet interest, but could not confirm any businesses located on the property. Propps did not provide the price or any conditions of the sale. It will take a few weeks before that information is posted publicly. The property was listed by Statesboro Properties for $653,400 per acre.
Statesboro Properties had the prime commercial property next to Harbor Freight Tools listed for local owners with over 1,000 feet of commercial frontage - across from Lowes, Ole' Times Buffet, Parkers and other retailers.
The property is just off the intersection with visibility from the Statesboro Bypass/Veterans Memorial Parkway and Highway 80/Northside Drive. This large 7.24 +/- acre tract is set to be subdivided to provide multiple parcel sizes. Zoned Commercial Retail. All city services available - water, sewer, gas, Fiber. Lot depths range from approximately 280-320 feet. It is ideal for restaurant, retail and medical sites.
A developer tied the property up months ago and has been shopping the property to prospective buyers. A savannah based agency with Colliers has been marketing the land. In one of their website's marketing images, they have listed on a graphic logos for popular restaurants and businesses including:
Jim 'N Nick's Community Bar-B-Q
Texas Roadhouse
Five Guys
Mattress Warehouse
Vavoline Quick Lube
Along with one 0.85 acre lot still available.
Variations of the graphic below has been shared on social media for weeks. This is a marketing graphic and does not represent confirmed businesses. Grice Connect has confirmed that one of the businesses mentioned has strong interest in entering the market; however, they are looking at three different locations.
In a previous marketing material there was another local restaurant chain graphic which is no longer on this new graphic. The restaurant owner reached by phone confirmed they are looking for a second location, but have not confirmed a location. This site is one that they were considering.
The Grice Connect team has been trying to reach for weeks representatives of these proposed business to confirm.
A Texas Roadhouse corporate representative shared with Grice Connect that the only confirmed new location for Georgia is in Ft. Benning, Georgia. This does not mean that they are not negotiating on the property, nor that they have or have not made a decision. It means we do not have confirmation.
We also have calls into Jim 'N Nicks and Five Guys with no return calls at the time of this story.
Until Grice Connect receives confirmation from the business or proper permits are given by the City identifying the businesses we must consider it hopeful speculation.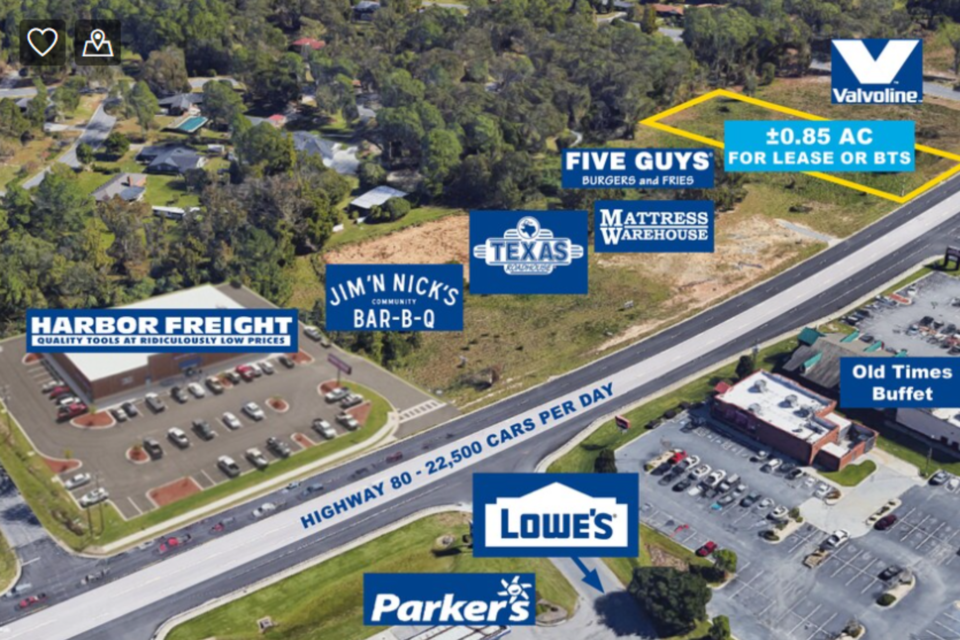 Zoning Special Exception
At the January 17, 2023 City Council meeting the developer, Benchwater Statesboro, LLC, with a Greensboro, N.C., was identified as the proposed developer of this site. Benchwater was represented by Statesboro attorney Steve Rushing in requesting a zoning special exception to allow an automobile service shop to be constructed on this property. During his presentation Rushing identified the shop to be a Vavoline Quick Lube. He also said that Texas Road House had expressed interest in the property.
The City of Statesboro planing department has received initial site plans for the property, but no construction permits have been issued which would also confirm businesses.
It is very early into the process and may take a few more weeks or longer for GC to confirm what businesses will be coming to this property.
With the proposed growth of Statesboro and Bulloch County, local realtors are reporting brisk interest in commercial real estate around the City and County. We are monitoring all of these exciting developments and will announce them as we get official confirmation from the businesses that have chosen our community.
You will know when you read it here that this has moved past wishful thinking to reality. Stay tuned.