The City of Statesboro rolled out its Master Plan Tuesday to chart a course for the future of Downtown and the Blue Mile, hoping to attract new businesses and residents, make it easier to walk and park, encourage appropriate new development, improve greenspaces and create a true gathering place for the heart of our community.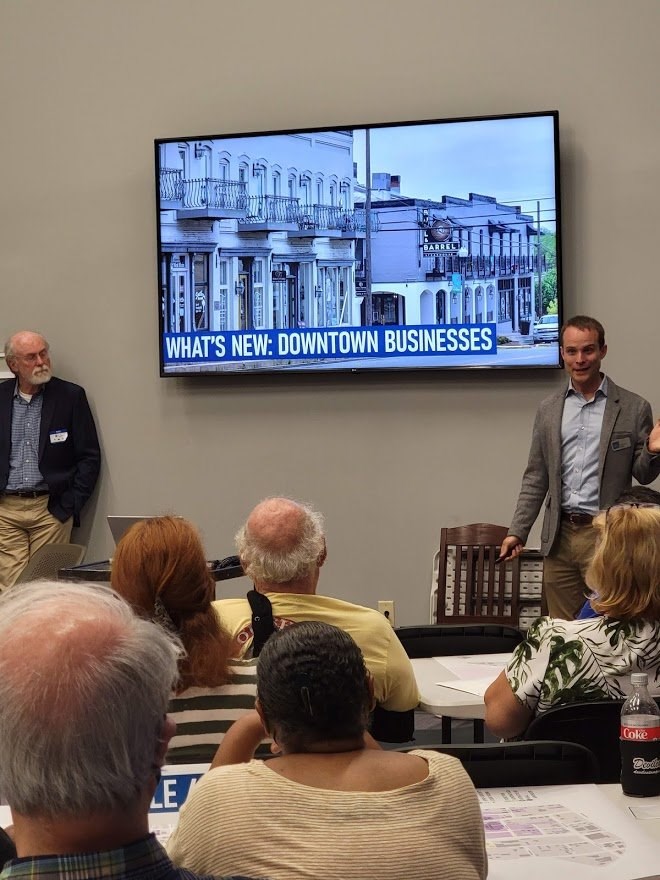 Community Planning Session
The standing-room-only workshop, which was held Tuesday, June 9, 2021, began with a presentation introducing the Downtown Master Plan process.
Then they had audience participate in discussion groups table by table to talk about the future of downtown from the participants perspective.
Below is a slide showing the timeline for the planning process:
You can view the entire presentation by clicking here.
You can view the discussion table materials used by the breakout groups by clicking here.
Audience Response to the Presentation
There were several slides from the presentation that drew response by the audience. The first was a comparison of the distance of the walk from the center of downtown to the entrance of the GS campus, down the Blue Mile. These are the red dots on the right image in this slide.
The red dots on the image on the left side of this slide shows River Street in Savannah which is the same distance.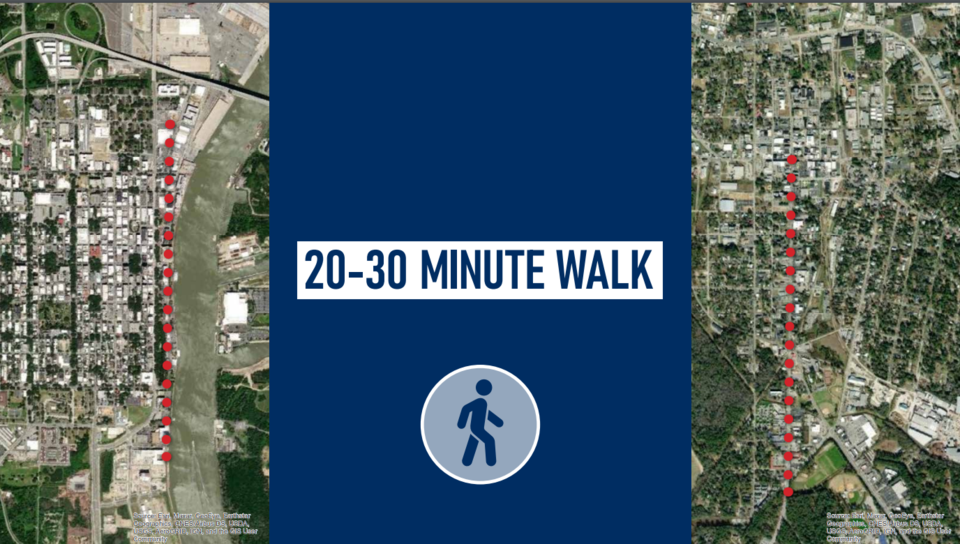 We all know the impact of Georgia Southern; however, it really is put in perspective by this slide showing 3 out of every 4 residents of the city are under the age of 40.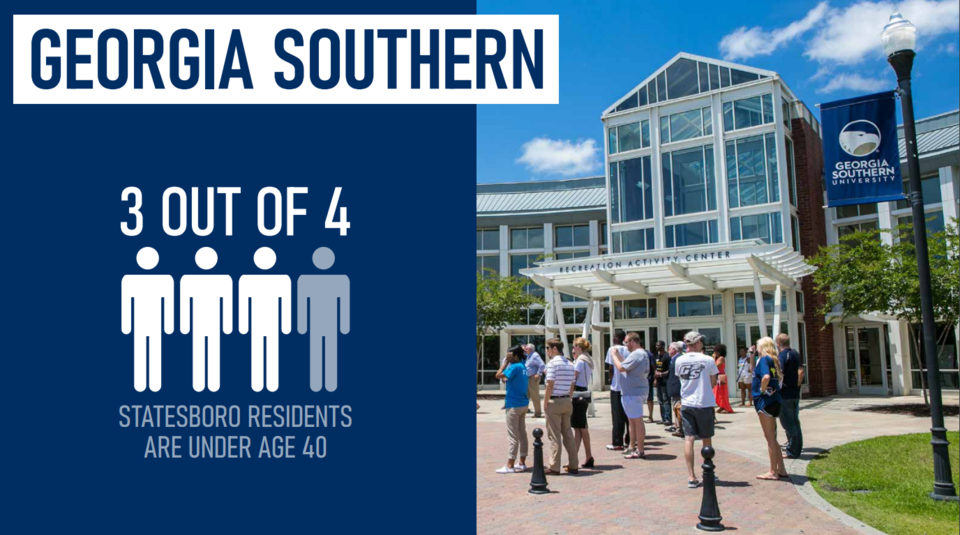 There were a series of slides that showed the assets and strengths of our community. Those slides were followed by this slide. The red on the map indicates all establishments in downtown that closes at 5 p.m.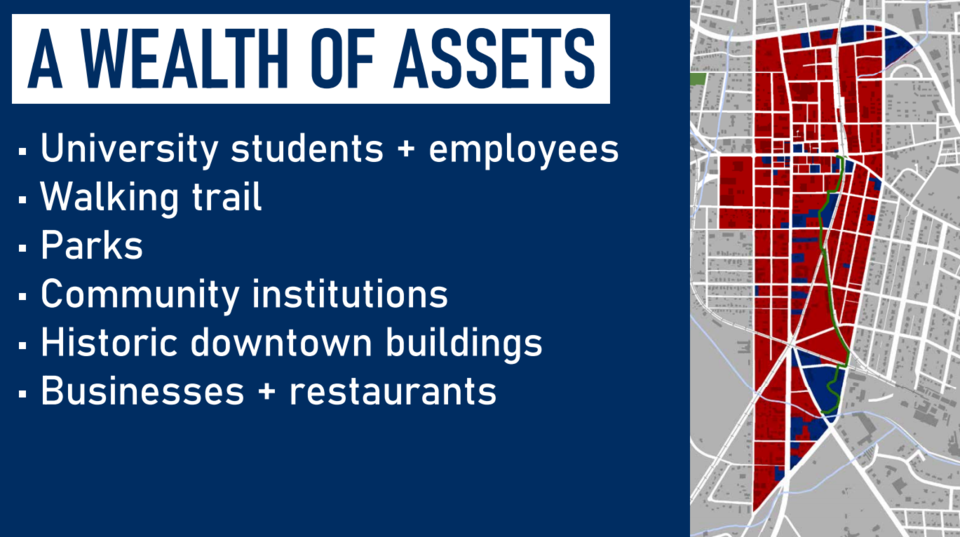 Ideas from Community Members
More Entertainment Venues - THINGS TO DO DOWNTOWN
"Downtown Get Down" on Friday night of home GS Football games - get weekly sponsor to coordinate so no one agency is overburdened in managing this event weekly
Remove prohibitive alcohol laws including allowing package sales of liquor
Accessibility to citizens with disabilities
More shade, tree coverage and interactivity on walking trails and Blue Mile
More sidewalks that lead to Downtown area
Grocery and drug store Downtown
Bring development Downtown away from Bypass
Art and Music venues on trail to give festival feel
Designated hub for food trucks
More attractive housing - lofts upstairs, retail downstairs, townhouses
Amphitheater to serve as a central point for entertainment and live music
Another hotel Downtown
Widen Highway 80 to Savannah
TSW, based in Atlanta, has been hired by the City of Statesboro to coordinate the Downtown Statesboro Master Plan process.
About TSW
TSW is a leader in creating designs that embody the principles of livable communities, walkability, sense of place, public spaces, human-scaled buildings, and connectivity. In recent years they have taken these ideas from concept to reality in a range of diverse places from the Southeast, Mid-Atlantic, and the Caribbean.
They have been involved in all stages of placemaking, including outreach, visioning, coding, public and private planning, architecture, and streetscape design.
As a full-service firm TSW is uniquely equipped to handle this project. Specializing in planning, architecture, and landscape architecture, TSW is a full-service design firm with offices in Atlanta, Georgia, and Tulsa, Oklahoma. With approximately 35 full-time employees.
Downtown Master Plan Resources
The Downtown Statesboro Master Plan website:
https://downtownstatesboromasterplan.com/
The Blue Mile website:
The Creek on the Blue Mile website: