In response to the leaked White House COVID task force report by Atlanta media yesterday, which placed Statesboro and Bulloch County again in the Red Zone, Statesboro's largest and most popular bar, The Blue Room has decided to close for 7 to 14 days. In addition, Gnat's Landing has cancelled all live entertainment for the same window of time.
White House COVID Task Force Recommendations
The White House report recommends all bars in the Red Zones should close, restaurants go to outdoor seating where possible and reduce indoor capacity to 25% and no crowds should gather in setting of more than 10 including family gatherings.
Beginning last week, Grice Connect began receiving reports from followers that appointments at local doctors offices and COVID testing centers were filling fast. Local doctors offices are reporting being booked solid for 14 days. We have also been getting requests from parents regarding recommendations for alternative locations for testing and doctors appointments.
After an 11-day drop in positive cases, and a decrease in testing demand, we have seen that change over the past four days.
Reporting Agencies Use Different Data Sets
The Georgia Department of Public Health is the agency that tracks and reports COVID cases and progress. They use a 14-day window to track cases. The White House recommends and uses a 7-day window. For this reason some of the recommendations between Georgia and the White House are different because they are using different data sets.
The White House COVID Task force defines the Red Zones as those core-based statistical areas (CBSAs) and counties that, during the last week, reported both new cases above 100 per 100,000 population, and a viral (RT-PCR) lab test positivity result above 10%.
Georgia uses the same targets but averages over a two week period instead of a seven day window.
In addition to monitoring the DPH daily report, Grice Connect also monitors COVIDACTNOW.com and the New York Times COVID dashboard. COVID ACT NOW follows the same targets as the White House, however their averge is a rolling average updated daily. The New York Times model uses a 14-day window which matches DPH. That is the reason GriceConnect.com reports data from all three in our daily report and on our daily dashboard.
All Data Show Cases Rising Again
No matter which data set you look at, there is obviously an uptick in positive cases and hospitalizations in Bulloch County which became evident in our reports over the past four days.
Blue Room Pausing for 7-14 Days
Here is the full statement from William Bridwell, an owner of the Blue Room:
"Per The White House recommendation made yesterday, we have made the decision to close the Blue Room for the next 7-14 days to monitor the continued spread of COVID, as well as the guidance of our local and state governments.
While no employees have shown any signs or symptoms of COVID, this is strictly a recommendation that we feel is our responsibility and in the best interest of our community and for the students of GSU.
Thank you for the continued support, we will see you soon, GATA."
Statesboro Mayor Commends Blue Room and Gnat's
"I have been in constant communication with Al Champan and William Bridwell two of the owners of the Blue Room regarding their decision to pause activities at the Blue Room and stop live entertainment at Gnats. This is a great proactive step to keep our children, students and community safe", said Statesboro Mayor Jonathan McCollar. "We need businesses and citizens to follow their lead and do everything possible to slow down this spike. If we can slow this down for a little while we will be in a much better situation to help continue to revive our economy and our community's health. Keep masking up Statesboro and respecting social distancing".
No Surprise, Mitigation Must Increase
Dr. Frank Davis, M.D., medical advisor for Grice Connect, said this spike is to be expected with schools and the University resuming classes. When numbers began to fall, we all began to get a little too comfortable and let our guard down.
"I join everyone in suffering from COVID-19 fatigue. We must remember however, this virus only cares about spreading as fast as it can and making as many people as sick as possible. At this point, it takes business leaders like Mr. Bridwell and Mr. Chapman making difficult decisions to place the health and safety of their employees and customers above everything else. In doing this, we can stop this virus sooner and hopefully prevent another large spike" said Dr. Davis.
"We know the steps we must take to beat this virus down. We must wear masks, we must social distance and avoid crowds of any size and use good hygiene in washing our hands. The Governor has asked us to do these things for four more weeks. With flu season coming, we may have to do this for four more months".
Data Reviewed to Make the Decision to Close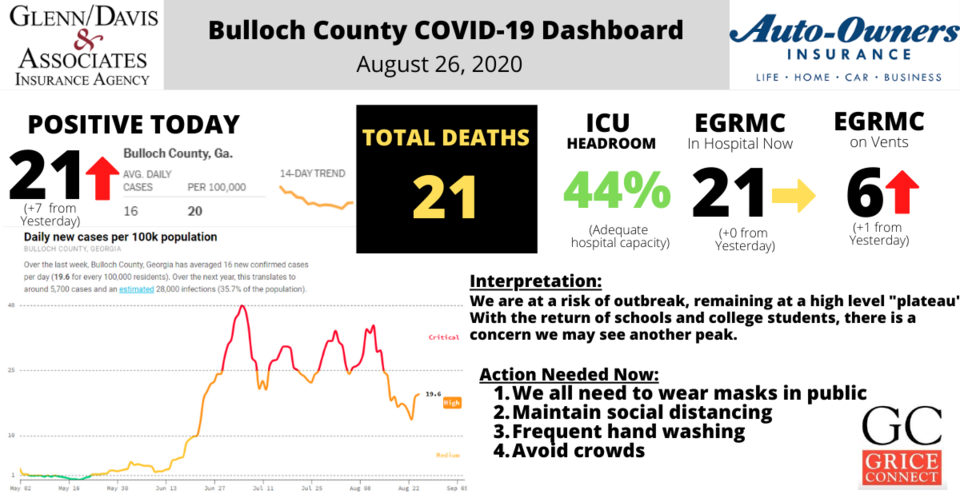 Bulloch County 14 day average of positive cases per 100,000 was 255 as of yesterday. Bulloch needs to decrease positive cases below 100 per 100,000 over 7 days to move out of the WH Red Zone.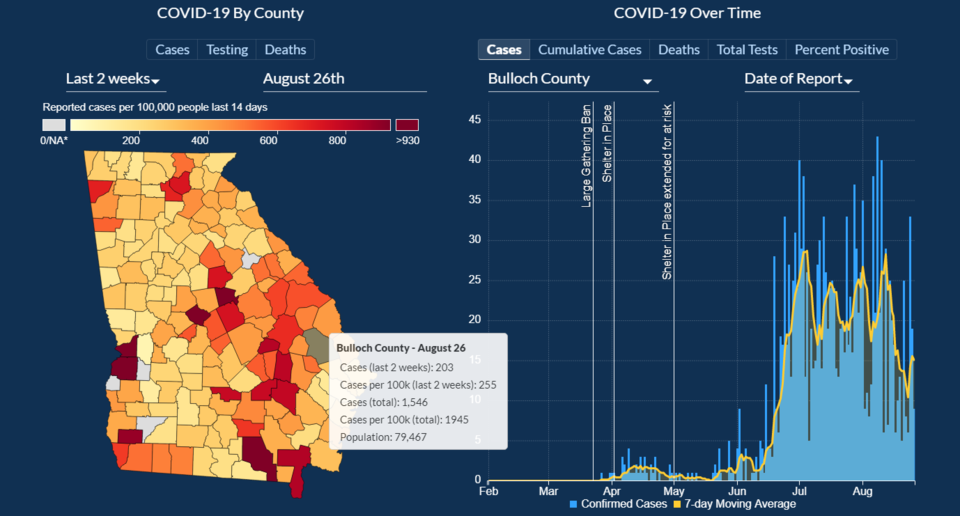 New York Times COVID is a site we use on the Grice Connect daily dashboard tracking a 14-day average of positive cases which matches the Georgia DPH targets. We are seeing this trend increasing also.

COVIDACTNOW.com is the site we also use on the Grice Connect daily dashboard. It tracks a 7 day average which matches the WH daily average. Last week Bulloch was moved from their "Red Zone" down one level. From following this over the past few months, this seems to be a better indicator of how our county is being affected. As you will note, even their averages are again increasing. COVID Act Now overall criteria is different from the White House.
Bulloch County 14 day average of percent of COVID-19 test returning positve was 12.2% as of yesterday. The WH Task Force's target is less than 10% to be moved out of the Red Zone.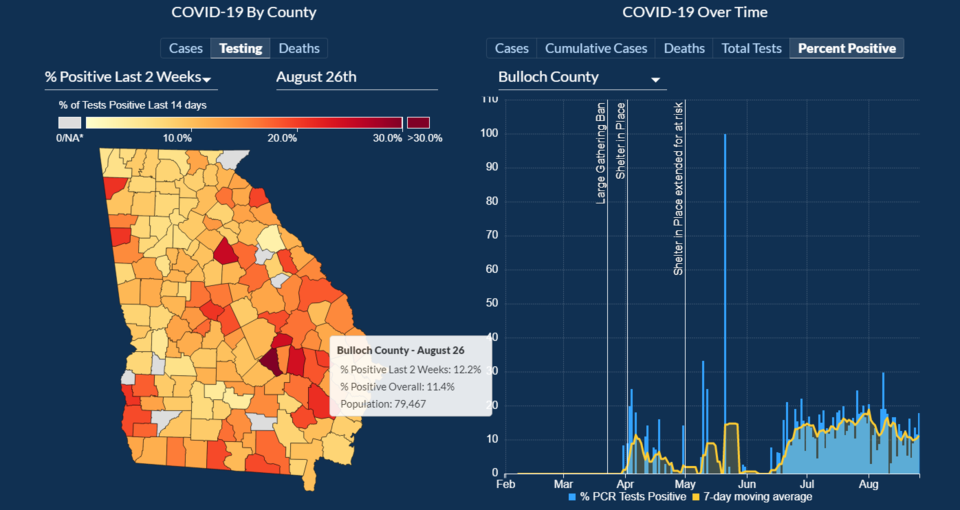 Data obtained from the Georgia DPH Daily report. The entire report can be viewed here.
White House COVID Task Force Georgia Summary for August 23rd:
• Georgia is in the red zone for cases, indicating more than 100 new cases per 100,000 population last week, with the 2nd highest rate in the county.
Georgia is in the yellow zone for test positivity, indicating a rate between 5% and 10%, with the 11th highest rate in the country.
• Georgia is making progress and has seen a decrease in new cases and a decrease in test positivity over the last week, but these improvements need to accelerate.
• The following three counties had the highest number of new cases over the past 3 weeks: 1. Fulton County, 2. Gwinnett County, and 3. Cobb County.
These counties represent 25.1 percent of new cases in Georgia.
• 86% of all counties in Georgia have ongoing community transmission (yellow or red alert), with 52% having high levels of community transmission (red alert). For the first time, there is a decrease in the number of counties in the red zone from 109 to 82 counties. This progress needs to accelerate, not just
in the large metro areas, but throughout the state. Increasing mitigation efforts is important.
• 3.9% of nursing homes are reporting 3 or more residents with COVID-19 per week over the last 3 weeks. Community spread from the general population to nursing homes must be contained.
• Georgia had 167 new cases per 100,000 population in the past week, compared to a national average of 93 per 100,000.
• Current staff deployed from the federal government as assets to support the state response are: 62 to support operations activities from FEMA; 15 to support operations activities from ASPR; 25 to support epidemiology activities from CDC; 1 to support operations activities from USCG; 2 to support medical activities from VA; and 1 to support operations activities from VA.
• The federal government has supported a surge testing site in Atlanta, GA.
• Between Aug 15 – Aug 21, on average, 356 patients with confirmed COVID-19 and 410 patients with suspected COVID-19 were reported as newly admitted each day to hospitals in Georgia. An average of 84 percent of hospitals reported either new confirmed or new suspected COVID patients each day during this period; therefore, this may be an underestimate of the actual total number of COVID-related hospitalizations. Under-reporting may lead to a lower allocation of critical supplies.*
• Please review the West Virginia School K-12 metrics that combine classroom education with sports activities for incentives to communities to ensure community transmission stays low.
RECOMMENDATIONS
• Immediately expand the protection of those in nursing homes, assisted living, and long-term care facilities (LTCFs) by ensuring access to rapid facilitywide testing in response to a resident or staff member with COVID-19 with isolation of all positive staff and residents. Nursing homes are a reflection of ongoing high levels of community spread. Ensure social distancing and universal facemask use. Immediately conduct infection control surveys in all nursing homes with 3 or more cases per week over the last 3 weeks. Antigen testing supplies will continue to be provided by the Federal Government over the next 4-6 weeks to support LTCF testing.
• Recommend a statewide mask mandate for counties with 20 or more active cases to ensure consistent mask usage, as improvements remain fragile.
• Continue the bar closure in all counties with rising test percent positivity, increase outdoor dining opportunities, and limit indoor dining to 25% of normal capacity.
• Ensure messaging to all citizens to limit social gatherings to 10 or fewer people, even with family. Cases seem to be coming from within households. It is essential that all citizens are limiting gatherings and protecting the members of their households with comorbidities.
• Continue the scale-up of testing, moving to community-led neighborhood testing especially in underserved neighborhoods. Ensure outreach workers are a reflection of the community they are serving to increase access and ensure transparency and trust. Work with local community groups to increase household testing of multigenerational households, with clear guidance on test positive isolation procedures and mask use.
• Ensure all individuals and households engaged in any multi-household activities are immediately tested, either in pools or as individuals.
• In many states, new transmissions are driven by family and neighborhood gatherings. Alerting citizens to these events and the role of these gatherings in spreading the virus is critical, as well as the danger to spreading the virus to family members with underlying conditions, potentially leading to
devastating results. Encourage individuals that have participated in large social gatherings, birthday parties, and family gatherings to get tested and to isolate themselves from family members with comorbidities.
• Ensure every citizen is aware of asymptomatic and pre-symptomatic spread of the virus and the need to continue to wear masks.
• Continue messaging of the risk of serious disease in all age groups for individuals with preexisting medical conditions, including obesity, hypertension, and diabetes mellitus.
• Georgia must expand testing capacity in public health labs by adding shifts, including on weekends, to reduce turnaround times. Institute 3:1 or 2:1 pooling of test specimens to increase testing access and reduce turnaround times.
• Georgia must require all universities with RNA detection platforms to use this equipment to expand surveillance testing for schools (K-12, community colleges) and university students. Any university with an outbreak must have a plan to test all students and protect the surrounding community from
university outbreaks.
• Ensure all hospital testing capacity is being fully utilized to support additional community, nursing home, and school (K-12) testing as emergency department visits and admissions decline, and additional testing capacity is available.
• Specific, detailed guidance on community mitigation measures can be found on the CDC website.
The entire White House COVID Task Force report for Georgia can be viewed here.