Artists see the world differently. They tell stories and inspire by creating things that never were. Josh Crews has been creating visually stunning art throughout his career as a motion graphics artist and director, working extensively in productions for television, films, commercials, sports broadcasts, live events, music videos, social media and brand development. Utilizing cutting-edge technology, Statesboro-native Crews brings art to life.
After graduating from Statesboro High School, Josh Crews went first to Georgia State University where he sampled different classes to see what disciplines appealed to him. The first to strike an interest was graphic design. He soon transferred to the University of Georgia, where he found another passion in video production. Josh hadn't done much work with video production before, but he found it interesting and wanted to learn more. "I shot videos and some stuff with friends in college, just for fun like for friends' bands and things like that, but nothing professional or anything that I knew what I was doing," says Josh Crews. He developed and expanded skills in both disciplines through his studies.
As he gained experience in both graphic arts and video production, he found that both fields could complement each other. He determined that he could combine his passions by creating motion graphics for the production of television and film. At that time, the University of Georgia did not offer a program for motion graphics, so Josh chose to double major, studying video production and graphic design simultaneously. Crews would excel in his studies and go on to graduate with a Bachelor's of Fine Arts from UGA in 2004.
Hitting the Ground Running
Through his dedicated work and connections made with instructors at the University, he earned an internship with Elevation, an Atlanta-based design company. There Josh further honed his craft designing, animating, and producing digital effects for high-profile clients such as CNN, TNT, TBS, Cartoon Network, and The Weather Channel. "The biggest thing I learned from that was time management, because things have to be done very quickly", says Josh, "I was still pretty new at it so I ended up working a lot of overtime and spending a lot of time in the office to get things done on time."
Quickly developing an impressive portfolio through his work at Elevation, Crews made industry connections and began freelancing as a motion graphics artist with a valuable array of skills. Having experienced great success in the Atlanta market, he began to get work from companies in New York City. After less than a year in Atlanta, Crews got a job offer to move to the Big Apple and further his career there. Josh worked hard to make a name for himself in New York. "When I got to New York was when I really hit the ground running. I started working in productions, working on sets, working in studios all over the city," stated Crews. Getting work was no easy task, however.
As a freelance artist, Josh was responsible for creating his own success. Reaching his goals would require determination and tenacity. "I really had to be disciplined and knock on a lot of doors," explains Crews, "This was before YouTube and social media, so I just went to offices and introduced myself. I would literally spend all my free time knocking on doors, introducing myself to the CEOs and producers of companies and handing them a DVD of my work. I probably only heard back from one out of every fifty or so people, but that ended up working out. After that, one job just kind of led to another. I was recommended from one company to another, and eventually people would keep me on a rotating roster as a freelance artist. Eventually I had enough clients that it just became consistent."
While in New York, Josh would work on movies, music videos and commercials. Notably, he assisted with production and worked in the art department for the 2007 film "I Am Legend", helping to create scenes involving the films iconic zombies.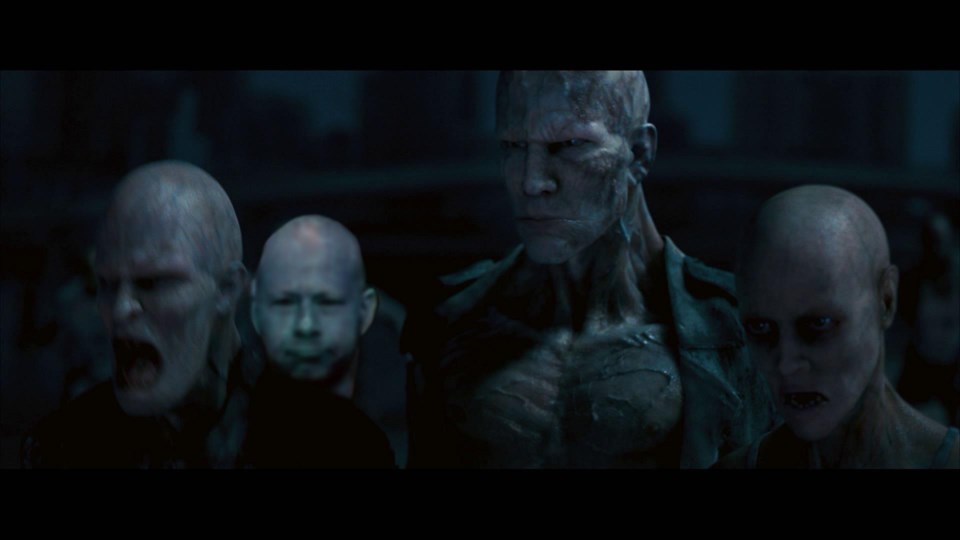 Crews found success in New York, but he dreamed of expanding his horizons beyond the east coast. "I always wanted to move to California, even when I was young," he expressed, "Everything I liked was out in California as far as lifestyle and activities, all the music I liked was out there." He left New York after a few years and began a journey that would span from Mexico to Austin, TX and eventually Denver, CO, all the while striving to make his way to Los Angeles.
Outside of a major production city, Crews found himself working on commercial projects for smaller businesses. He also worked sales jobs and as a scuba instructor during this time, saving money for when he would finally make his move to LA. In 2008, Crews was finally ready and moved to Los Angeles. Through contacts made working in the industry, he was quickly able to find work. The first job he worked on in LA was one of the final films in the Harry Potter series: Harry Potter and the Deathly Hallows.
Projecting into the future
Shortly after he settled in California, Josh stumbled upon an emerging graphic production technique that would become his specialty called projection mapping. Projection mapping is a technique used to turn objects, often irregularly shaped, into surfaces that can be used to display elaborate moving graphics. This technique allows almost any surface to essentially be made into a projection screen, from complex industrial landscapes, such as buildings or theatrical stages, to smaller objects. "You can map out architecture on-site, like a building or a sculpture, and then you basically make that architecture into a 3-D object on a computer," explains Crews. "We can then make animations fit that object and make those elements come to life." Josh took a job with V Squared Labs, a pioneer of the emerging technique, which allowed him to develop his skills in projection mapping. This company specializes in concert visuals, and with them Crews would create custom concert visuals for bands like The Red Hot Chili Peppers and Linkin Park.
As projection mapping grew in popularity, the demand for artists who could work with the technique increased. Becoming proficient in projection mapping did not come easy to artists, however, as this technique requires much more planning from a technical standpoint than typical motion graphics work. "You're no longer just working on a rectangle frame like when you're doing TV," explains Crews. "Now you're handling all these crazy aspect ratios and crazy dimensions, so that was a big learning curve. Luckily, at the time when I fell into that you could do tutorials on YouTube, so I ended up spending a lot of time doing tutorials and training and learning new software to get better at that skill." Through his hard work, Josh would become an expert in the technique and contribute to the creation of some of the most elaborate projects in the industry.
The Sphere Vegas
Most recently, Crews has begun work on what is likely his most ambitious project yet: the $2.3 billion Madison Square Garden Sphere at the Venetian Resort in Las Vegas. The Sphere is a new 18,600 seat entertainment venue currently under construction near the Las Vegas Strip. As the name implies, the 366-foot-tall venue is entirely spherical, and the exterior will feature a 580,000-square-foot programmable screen that will be visible from just about anywhere in Las Vegas. Crews is creating the graphics that will appear on the screen, and although the screen is LED and not projection, it presents many of the same challenges that are encountered in projection mapping. The Sphere's screen will display a variety of custom animations and advertisements, all of which must be developed to accommodate the structure's shape.
Chase your dreams
As Josh continues to grow in his career and contribute to new and exciting projects, he encourages anyone who dreams of a successful career in the motion graphics industry to get educated and be flexible. "I would definitely say go to a school that already has a program set up because it's a pretty iron clad industry at this point," he explains. "Then after college you really have to live somewhere where the work is. I think you have to live in a big production city, which luckily for Georgia, Atlanta is probably the biggest production city right now. You have to be somewhere like Atlanta, New York, L.A., I think there's still a lot of work in New Orleans and Austin, you just have to go where the work is or otherwise it just doesn't work. You also have to be willing to start at the bottom, doing a lot of busy grunt work. Even starting off sometimes with an unpaid assistant job, like I did, you just have to get your feet in the door and meet people and just get started."
Crews' works are truly one of a kind, and I encourage you to explore them at https://joshcrews.net/
Josh is the son of Statesboro barber, Mike Crews owner of the Lions Den and Donna Cannady Benson of Statesboro.