Registration for 2021-22 classes, camps and workshops at the Averitt Center for the Arts is now open. The Averitt offers an array of informative and creative programs that help encourage students to excel and grow. All classes are taught by instructors who are practicing artists within their field(s) of expertise. With their variety of programs, there is something for everyone at the Averitt.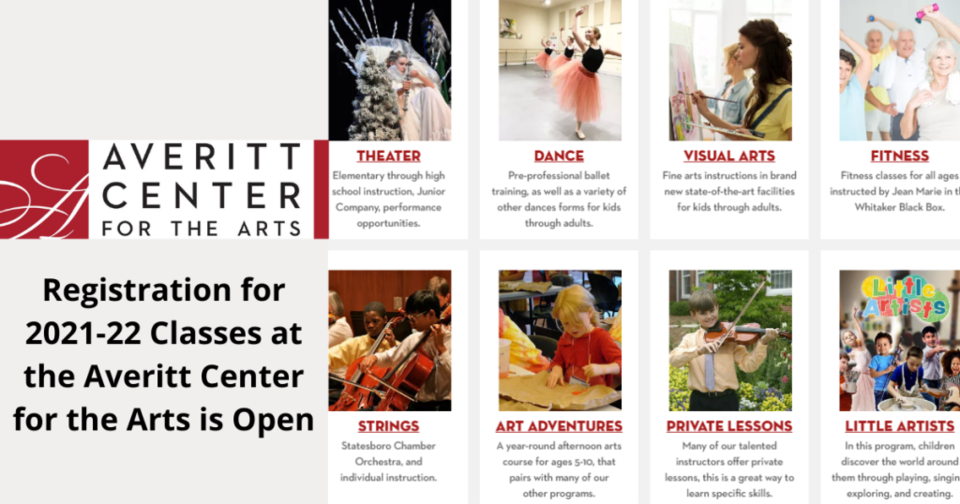 The Averitt Center for the Arts is one of the few multi-disciplined art centers in the state of Georgia. They have four buildings, a performing arts theater, eight pottery wheels, three dance studios, two art galleries and multiple classrooms to provide arts education opportunities. There is something for all ages from two years old and up. So go on ahead and register yourself and/or your child for one or more of their classes.
There is a once a year $10 registration fee for classes.
There is a performance fee for youth productions.
Participants who cancel their registration prior to the beginning of a program will receive a full reimbursement, minus a 20% handling fee to cover costs. NO REFUND will be made after the first camp/class session.
Visit their website at https://www.averittcenterforthearts.org/copy-of-classes-camps to see all of the classes they are offering this season, or contact Tony Phillips at 912-259-9228 or email tphillips@averittcenterforthearts.org.