Mrs. Juanita Morris or "Granny" as her grandchildren call her is from Claxton which is the home of the World Famous Claxton Fruitcake. She is a one-of-a-kind lady whom most would say is part of the last great generation. The generation that has seen their country go through the Great Depression, World War II, and bounce back.
At ninety-three years, Mrs. Morris stands barely five feet tall, and still cuts her own grass. She maintains her flower garden, takes care of her house, drives and shops on her own, and cooks for her family without any assistance. She is the only person that I know who can grow flowers in the freezing cold of winter.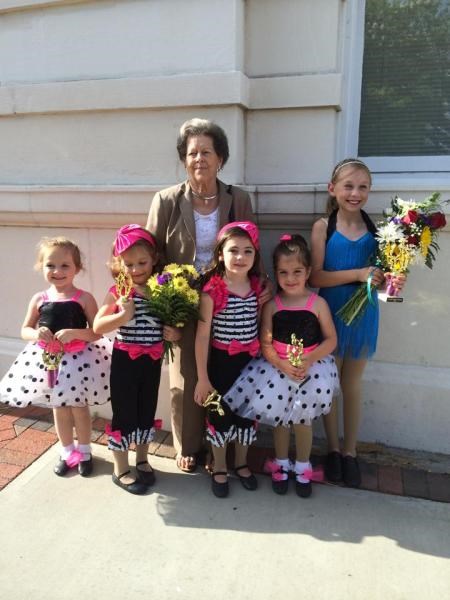 She is my daughter's great grandmother on her daddy's side of the family. From the day I met her, she insisted that I call her Granny, and has always made sure I feel welcome in her home. Mrs. Morris, a true treasure, is the epitome of a sweet, southern grandmother.
Her daughter, Donna NeSmith, shared, "We were very blessed to have two hard working, Christian parents to raise us and teach us how to treat others, but have fun in the process. We always knew we were loved and no matter what, we would always have somewhere to go no matter the circumstance. They loved us unconditionally."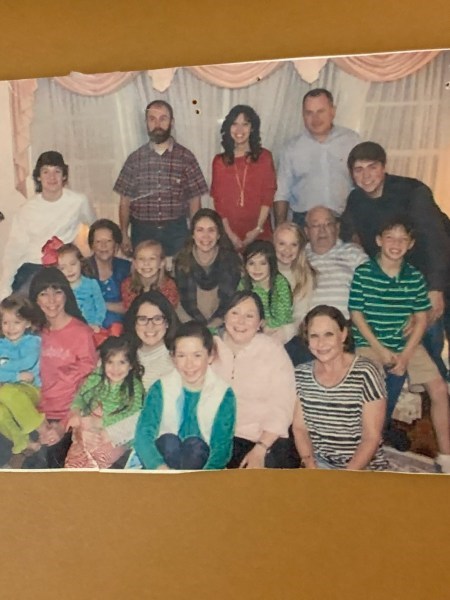 Traditions begin with Southern Dinner
Every Sunday she makes a full southern style Sunday dinner for her family. Upon entering her home, she puts a full place setting at the table for each family member. There are times when her house is completely full of family enjoying her delicious home cooked meals at the dinner table.
It never fails, for me, that upon leaving Mrs. Morris's house after a Sunday dinner, I get extremely sleepy and can't wait to take a Sunday afternoon nap. Granny openly admits, "It's the lard I cook with."
Buddy Bars packed with memories and love
During the holidays, Mrs. Morris will have everyone over for Thanksgiving dinner in addition to her regular Sunday dinner. For Christmas and Christmas Eve, she prepares in advance the most divine sweet treats that I have ever had. She calls them "Buddy Bars". Her family calls them Fruit Bars. For years I have attempted to get the recipe from Mrs. Morris. Each time, she replies, "Oh, it's in my head."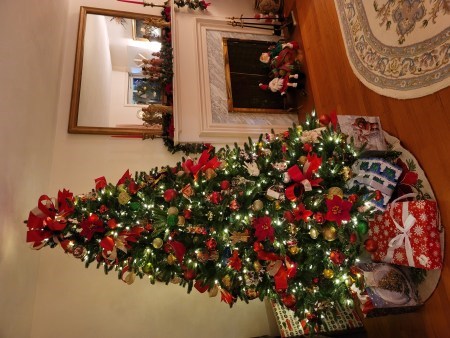 I mentioned this to one of her grandsons, Charles, at a family gathering during Christmas Eve a few years ago, and he let out a belly laugh. He said, "You know, I've got a copy of the recipe, but I'm sure Granny has left out an ingredient or two."
One evening last week, I had the most wonderful time with Mrs. Morris. It was my intention to learn and help her as she makes fruit bars. By the time I arrived at her house and upon walking in, I giggled a little. She already had the batch of fruit bars mixed!
Mrs. Morris was waiting on me to proceed with cooking. Little did I know this visit was about a lot more than getting a recipe and learning how to make her fruit bars. It was an opportunity to spend one-on-one time with Mrs. Morris and learn all about her life. Simply put, my visit reminded me why grandmothers are so special.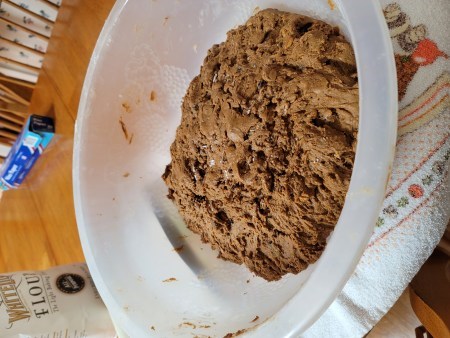 Cooking lessons become life lessons
After getting settled in, I asked Mrs. Morris what I could do to help. She pointed to a chair across the table and replied, "You can just sit down right there." I told her I was there to help. She said, "You are just by being here."
Mrs. Morris began by getting two handfuls of the dough, rolling it into a ball, and placing it on a mat on the table. She reached her hand into a bag of flour and sprinkled it out over the mat. She said, "You don't want to get too much flour on there because the dough will absorb it." Next, she rolled out the dough ball into a long piece shaped like a rope about an inch thick. Then she placed the rolled dough onto the baking sheet and proceeded to flatten the rope out from top to bottom by hand.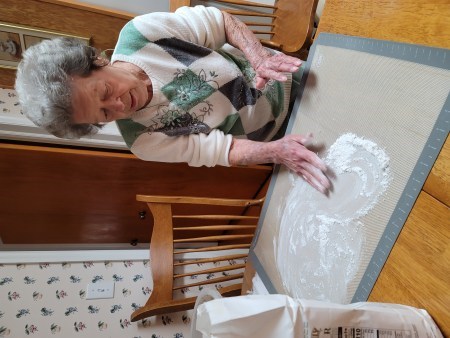 Growing up in Claxton
As I sat in my chair watching Mrs. Morris, because she insisted that is what I do, I asked her how long she had been making fruit bars. She told me, "I was about 16 years old when I started working at the bakery with Buddy. He started when he was 11. Back then, we wouldn't close at 5 or 6 o'clock like stores do now. The streets of Claxton would be full of people waiting in line to go to the movie theatre next door."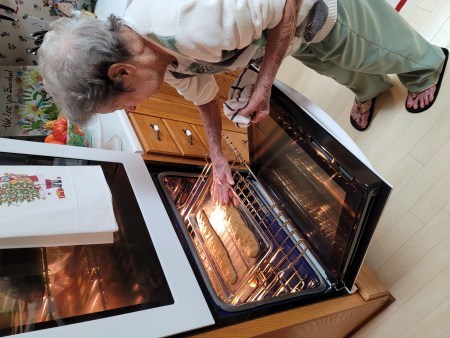 She continued, "This was the place to be when you wanted something to do." Doing the math in my head, this was probably in the 1940s or 50s. Mrs. Morris proceeded to tell me that they used to make fruit bars at the bakery. When she says the bakery, she is referring to Claxton Fruitcake. She said, "After the movie was over, people would come into the bakery and get something to eat and a soda."
Mrs. Morris continued with the dough and moved the bars to the oven. I asked, "How long will you bake them?" She replied, "About ten minutes or so." After making a couple of sheet pans of fruit bars, she continued, "Buddy came home one day and decided he wanted to change the recipe of the fruit bars. He took out the pieces of fruit and some other stuff."
"Really, these are Buddy Bars," she said as she took the first tray out of the oven and sat them to cool on her stove. "I always make them the way Buddy liked them. The kids and grandkids have always enjoyed them, so now I make the fruit bars for them."
70 years of love and cooking
She finally sat down in a chair and told me about how she and "Buddy D" Luther D. Morris were together for almost 70 years. Mrs. Morris shared with me that Buddy grew up with his Uncle Albert Parker, who founded the bakery. She said, "At one point when I was trying to finish school, Aunt Delores Parker insisted that I stay with them so I could go to the library across the street, and it would be easier for me to get to the bakery." She continued, "Buddy didn't get to finish school, but I did."
Mrs. Morris told me a little more about her and Buddy. She said, "After a little while, Buddy and I started seeing each other and went places. I wasn't thinking about getting married. One day, Uncle Albert pulled me aside and told me that Buddy was talking about getting married. I told him that I didn't think I was quite ready for all that." Granny said, "Well, we got married a few months later." Then she looked at me and smiled.
"You can eat as many of these as you want," she stated as she put a thin coat of icing on the fruit bars with a paint brush from ACE. She laughed a little, and said, "this," referring to the paint brush, "and this," showing me the rolling pin and cutter she was using, "is from the bakery. I've been using these a long time."
We spent about three hours just talking with each other while she made the fruit bars. Mrs. Morris eventually let me help with cutting them and placing them on wax paper to cool. She said, "You need to place them leaning like this so that they don't break apart." I quickly learned that I was being stingy with my cutting of the fruit bars. She cut them much larger than I did.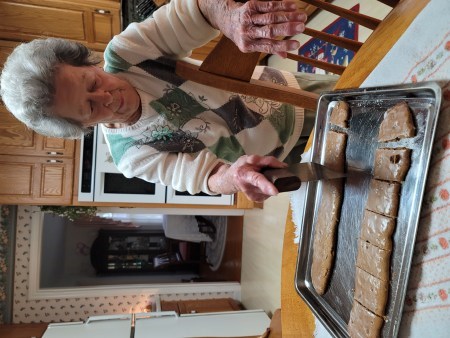 I tried one. I never had a fruit bar that was warm and fresh out of the oven. It was heavenly! The fruit bar melted in my mouth. Mrs. Morris asked if they tasted alright. She was worried because she only had a little molasses left to put into the batch. I replied to Mrs. Morris, "These are so delicious!"
She reminded me that I could eat as many as I wanted. I said to Mrs. Morris, "I better save them for the family." She replied, "I've already got another batch made and ready for Christmas. I just thought it would be good to have some more."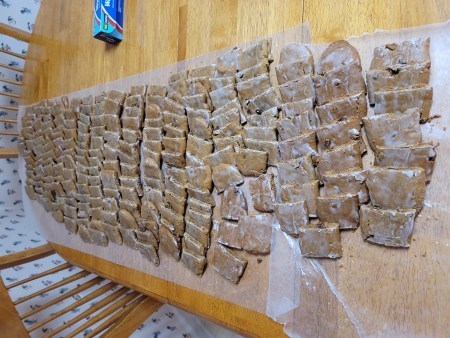 After Mrs. Morris finished with the fruit bars, she made sure to make me a plate of Harry's BBQ for dinner. We then ate together at the table and talked a lot more.
Spread the love of family this Christmas
My visit with Mrs. Morris was incredibly special. I would like to encourage you, our readers and friends, this Christmas, to spend a little extra time with the ones you love the most. If you have a "Granny" in your life you are a blessed individual. Savor every moment that you have together. I hope you have a very Merry Christmas and a safe and Happy New Year!
Oh, and one more thing. I still don't have the recipe.