Step into a magical world where pumpkins become carriages and fairy godmothers grant wishes when Cinderella comes alive at the Emma Kelly Theater on November 16-18 underwritten by Georgia Power.
Cinderella, her Fairy Godmother, stepsisters, and the Prince will grace the Jan Brown Anderson stage Friday as 41 young women and men tell the story of this timeless classic through the beauty of ballet. Filled with gusty humor and lyrical romance, Cinderella offers a unique telling of a centuries-old story that still touches hearts today. The event is sponsored by Georgia Power.
Set to the beautiful music of Sergei Prokofiev, Cinderella tells the story of a young woman with a kind and gentle spirit who overcomes hardship to find her courage and love's destiny. Dreams magically transform into reality with one enchanted night at a ball, where Cinderella finds her happily ever after.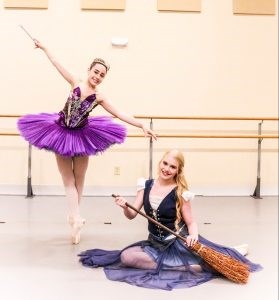 "This ballet brings the familiar fairy-tale story of Cinderella to life on stage with local young dancers and professional guest artist Raul Peinado from the Atlanta area," said Averitt Center dance program director Taylor Ellen who also choreographed the entire performance. "These dancers have been rehearsing since August to present this performance to the community. We hope to draw in audiences of all ages with the magic of this ballet."
Madelyn Wolfe, a junior at Statesboro High School, has the lead role of Cinderella and Analisa Harter from Sylvania, is cast as her Fairy Godmother. Madelyn is the daughter of Kim and Robert Wolfe and Analisa, a home-schooled senior, is the daughter of Michelle and James Harter. Both 17-year olds each began studying dance at a very young age.
Both girls say that dance is a vital part of their lives, and that it has taught them discipline and self-confidence.
"What I love about dance is that it just makes me feel free and it's another way to express yourself, instead of just words," said Wolfe. "When I dance it just makes me feel happy, like I just can't stop smiling."
"I think dance is so much a part of my life and how I am," said Harter. "I think that dance helps you build confidence, because you have to perform. I have had to give a speech before and it wasn't a big deal, because if you can perform at the Averitt Center, you can give a speech in front of people."
Georgia Southern University junior Gennevieve Wright, the daughter of Dr. Karen McCurdy and Ron Wright, is the evil stepmother. The wicked stepsisters are Sydney Strickland, a junior at Pinewood Christian Academy, and Abbie Gunter, who attends William James Middle School. Strickland is the daughter of Sindy and Dennis Strickland from Glennville. Gunter is the daughter of Jessica Gunter and Chris Benatti.
Tickets are $20 for adults ($18 for Averitt members) and $10 for youth, high school students, and university students with college I.D. To reserve your ticket, call the Averitt Center for the Arts at (912) 212-2787 from 10 a.m. to 7 p.m. or purchase online at www.averittcenterforthearts.org.