Get all fired up for local and regional art pieces as gift ideas for the holidays!
Go to the 11th Annual All Fired Up Winter Exhibition and Sale at the Roxie Remley Center for Fine Arts on 31 East Vine St. Thursday, Dec. 1-Saturday, Dec. 3.
At the Roxie Remley Center, attendees can admire a place where art has actually been made, not just sold. Their annual event has always been a crowd pleaser.
Hundreds attend the annual All Fired Up Winter Exhibition and Sale to buy locally crafted art as gifts or for themselves. Also, the Averitt Center has noted that they have people who come back multiple days to shop at the sale. Usually over 30 or more local artists participate to display and sell their work.
Attendees will be able to see how the center is a workspace. However, for this event, the Roxie Remley will be set up more like a professional gallery. It becomes a welcoming blend of the formal and informal.
In fact, holiday décor will be minimalist save for décor that will be for sale. Yet there will be a Christmas tree toward the front of the center with fundraising ornaments to be discussed later. The large amounts of art for sale will essentially become the décor and focus.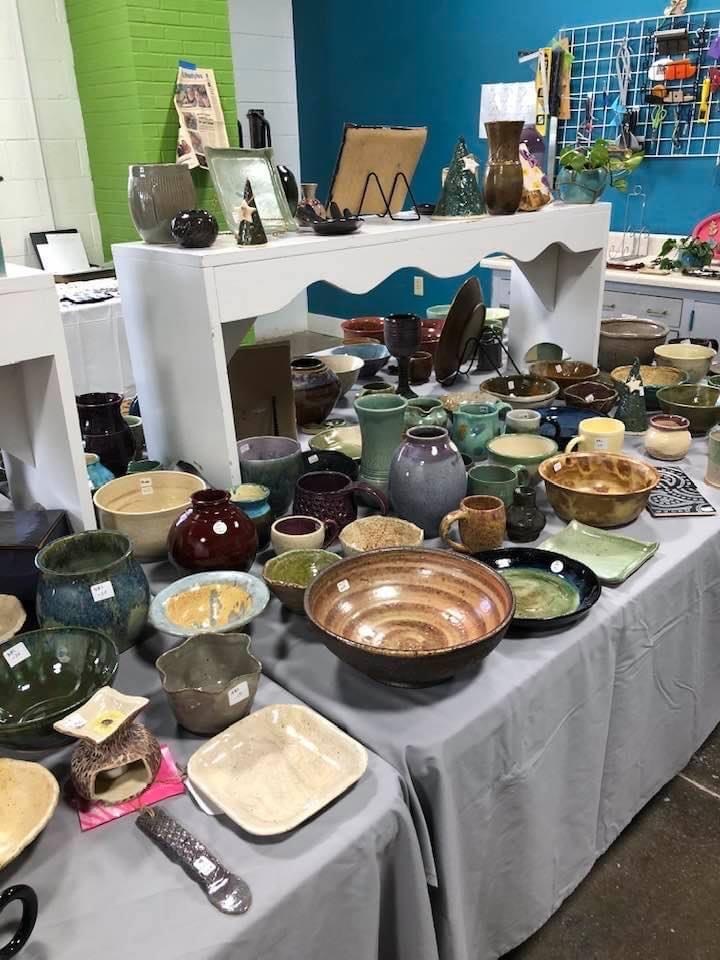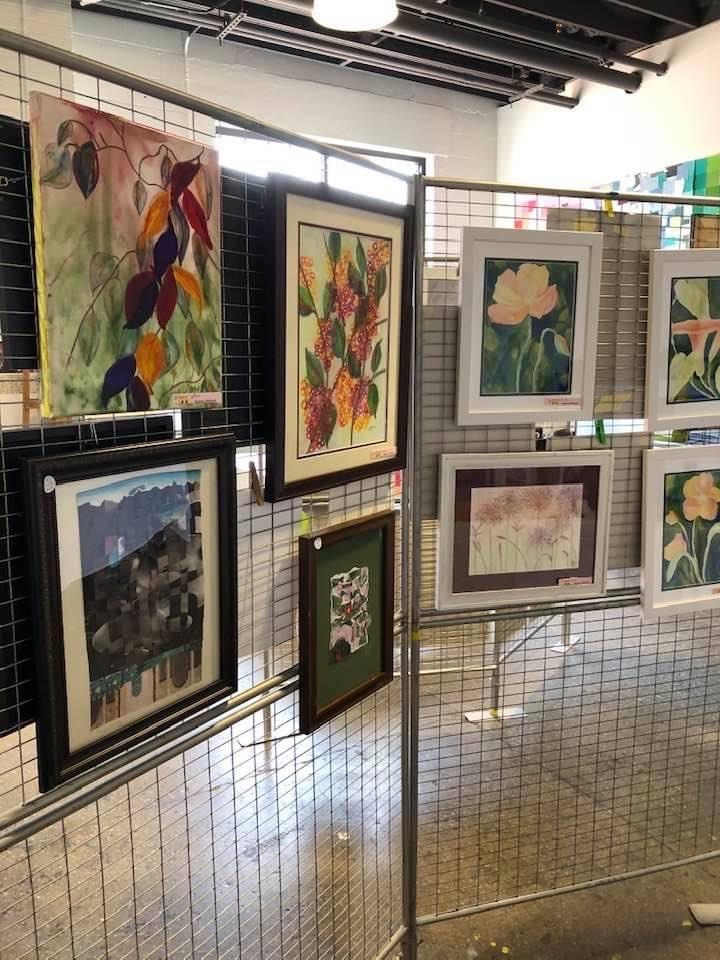 GSU PART-TIME ART PROFESSOR AND AVERITT CENTER VISUAL ARTS DIRECTOR KIMBERLY RINER IS ALL FIRED UP
Kimberly Riner works as part-time professor at GSU with a MFA and visual arts director for the Averitt Center. Riner said, "We think of All Fired Up as getting excited but also firing our pottery pieces in the kiln."
In fact, well-known potter Linda Whitt Smith will be there with her work as will Jane Pleak, a retired ceramics professor from GSU with her own as well.
But not just pottery will be sold there. In fact, Riner said the event is to promote the arts in Stateboro in general.
"It's a great opportunity for people to get their holiday gifts at all price points. They can get handmade gifts and works of fine art," she added.
Jewelry, fine art, and more from local and regional artists from novices to masters in their mediums will be available there.
Riner said they also have cups, bowls, vases, and sculptures and sometimes have photography, crochet art, and more for sale at the annual three-day event.
"We have a wide variety of art across the spectrum," she added.
WELL-KNOWN REGIONAL POTTER LINDA WHITT SMITH IS ALL FIRED UP FOR THE EVENT
When a professor has taught a professor, one knows she has years of experience.
"Linda Whitt Smith, who will be attending the event, was my first professor of pottery at GSU," Riner said.
In fact, Ms. Smith has been creating pottery for over 40 years. Ms. Smith taught as an adjunct professor at GSU for three years and taught art in public schools for 27 years, 17 years on the elementary level and 10 on the high school level.
Her work has been shown in Gallery 209 on River St. in Savannah for 19 years. Also, her work has been displayed at the Piedmont Craftsmen Guild in Winston Salem, N.C. Ms. Smith also teaches advanced wheel throwing at the center where the event will be held and has rented a studio upstairs at the facility for quite some time. Her MFA focused on specialized crystal glazes with pottery.
Ms. Smith was at the center during "Grice Connect" 's recent visit and showed us some of her vases and other pieces.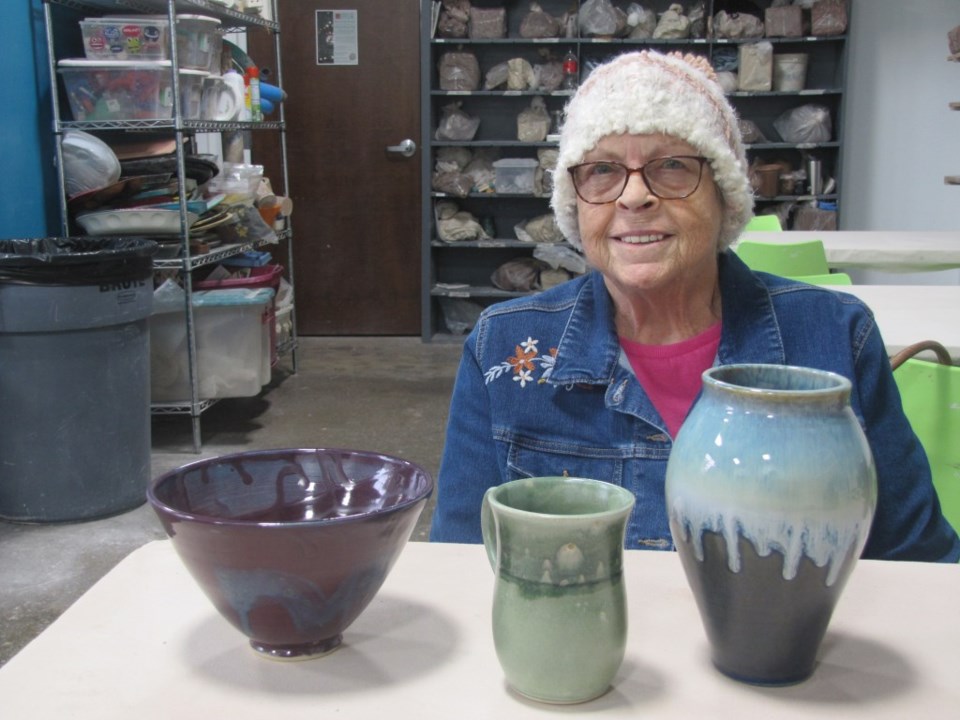 VASES, MUGS, AND BOWLS ARE ALL FIRED UP
Ms. Smith pointed to one piece in particular and said, "This effect is overlapping of glazes to make it run. I put three layers on there to make it do that."
Next, she pointed to a mug. "I did store bought crystal glazes on that one," Ms. Smith said.
She demonstrated through pantomime how she has to customize the handles and keep in mind how people will grab them. Many large fingers can go through the mug's handle, and Ms. Smith has even had the forethought to put a concave indentation in the mug handle for the mug user's thumb.
Then, for a bowl that she pointed out, she said that she used bought crystal glaze on top of a studio glaze.
ALL FIRED UP WITH ABSTRACT STYLES AND GLAZES
For some of Ms. Smith's techniques, she becomes Jackson Pollack-esque, splashing the paint on her pieces to get the desired effect.
Her former student and current artist and part-time professor Riner said that with some of those techniques that Ms. Smith leans toward abstract expressionism.
Next, Ms. Smith discussed what sounded like a particularly difficult technique, crystalline glazes.
"The crystals grow within the kiln (with the piece). Zinc is what gives you crystals," Ms. Smith said.
She said, "I have to make a pedestal for each pot. I have to grind each one."
The pieces where crystalline glazes are used, because of the time invested, can go for hundreds of dollars. But she has pieces at different price ranges.
Ms. Smith said she will have a few select pieces in the sale and maybe even some rare pieces.
OTHER LOCAL AND REGIONAL ARTISTS ARE ALL FIRED UP FOR THE EVENT
Christina Lemon, professor of jewelry and metalsmithing at GSU, will attend with her pieces as will Steven Roberson, a classically trained oil painter and graduate of the Savannah College of Art and Design. The Statesboro Regional Arts Association also participates in the event.
In addition, regional artist Bunyan Morris who paints using watercolor and gouache, will be attending with his work. For those who may not be familiar with the term, the Oxford online language dictionary defines "gouache" as "a method of painting using opaque pigments ground in water and thickened with a glue-like substance." A few other online sources have concurred that gouache has more layers than watercolor.
"It is similar to watercolor and is more opaque than watercolor," Riner said.
Morris not only has many years of experience as an artist, but, as many of the attending artists did and have, he has taught art as well.
Riner noted, "Bunyan Morris taught art at Statesboro High School for approximately 20 years."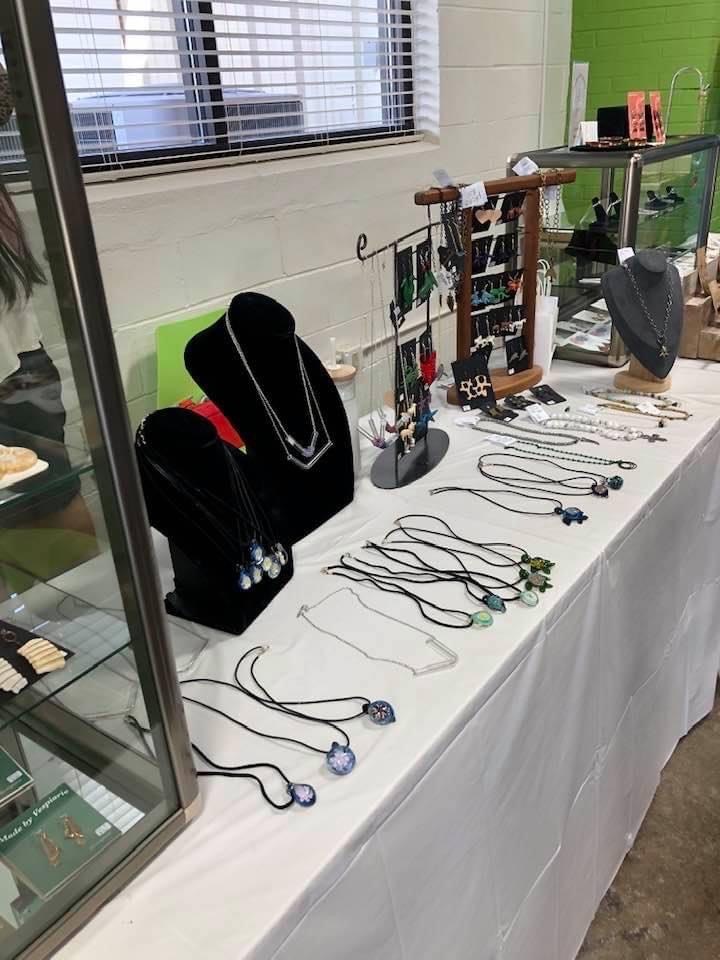 ALL FIRED UP WITH ORNAMENTS FOR THE AVERITT CENTER FOR THE ARTS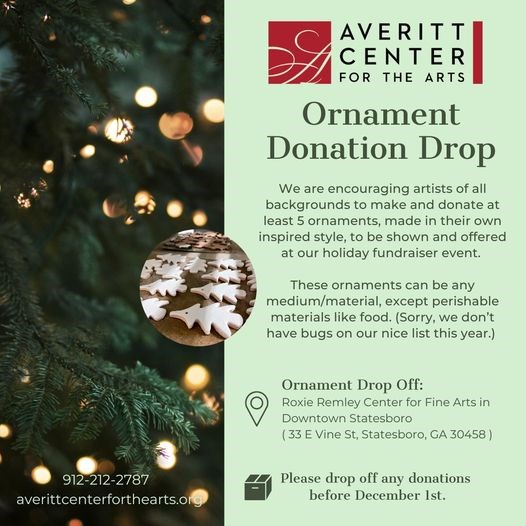 In addition to work from visiting artists, custom-painted ornaments donated to the Averitt Center for the Arts from many different artists and areas will be sold there as a fundraiser.
"We are having a fundraiser within the sale for the Averitt. Artists from all over are donating Christmas ornaments for a tree at the Averitt Center. During the All Fired Up Sale, the ornaments will be moved to a tree at the Roxie Remley Center for Fine Arts and will be for sale there," Riner said.
According to the Averitt Center's Facebook page post about it, "We are having a holiday fundraiser to help maintain our classes, supplies, and more! While our studio artists are very talented, we wanted to reach out to our wonderful supporters and fellow community artists and get them involved too."
The post continues, "So, we are asking for donations of at least five ornaments per artist to offer and show at our fundraiser. These fine arts/ original ornaments should be in your own style and of course made and signed by you, so let's put lots of love into them!"
The artist-decorated ornaments must be dropped off at the Roxie Remley Center for Fine Arts before Dec. 1. The Fundraiser will start Dec 2 during the All Fired Up sale and last until the end of the holiday season.
GEORGIA SOUTHERN UNIVERSITY IS ALL FIRED UP
For the event each year, the Averitt Center for the Arts joins forces with Georgia Southern University's Betty Foy Sanders Department of the Art's "Student Made".
"We invite GSU to participate. They bring over pottery, paintings, prints, photography, and metalsmithing work," Riner, who also teaches classes at the Roxie Remley Center for the Fine Arts, said.
She said they may have some students (either from GSU or even the center) who may sell their first piece at the event.
Riner next explained some of the history of arts events in the area: "GSU used to have a sale for many years called Club Mud. That sale went away, and I have modeled this sale after it."
She said, unlike the one at GSU, she opened his exhibition and sale Dec. 1-3 to paintings and other mediums.
"This glorious exhibition and sale was started in 2011 at the main building of the Averitt Center for the Arts. Six years ago, we moved to this facility, the Roxie Remley Center…" Riner added.
The event does raise money for the Averitt Center, but it also helps local and regional artists individually.
"We take a small percentage of sales from the event. 75% of the sales go directly to the artists," Riner said.
The schedule for the three-day exhibition and sale varies. The event happens Thursday, Dec. 1 from 2 p.m.-8 p.m., Friday, Dec. 2 from 10 a.m.- 8 p.m., and Saturday, Dec. 3 from 10 a.m.- 2 p.m.
For more information, call (912) 212-2787 or go to www.averittcenterforthearts.org .
Or see the Facebook invitation here: https://www.facebook.com/events/511900397511583?ref=newsfeed .